Rent growth for industrial properties in the U.S. was triple the growth compared to the rest of the world last year, but industry experts expect some deceleration in 2016.
According to the recently released Prologis Logistics Rent Index, global industrial rent growth reached 6.0 percent last year. The U.S. dominated that increase, with rent growth of 9.0 percent (Asia experienced 3.0 percent growth and Europe and Latin American both came in at only 2.0 percent). Though the most expensive industrial properties are still located near foreign cities including London, Tokyo and Singapore, U.S. cities—San Francisco, Chicago and Nashville, Tenn.—posted the highest rental growth rates last year, according to Prologis, a worldwide owner and developer of industrial facilities.
That growth has been due to a combination of quick recovery after the recession, high barriers to entry in some markets and rising replacement costs, according to Chris Caton, global head of research for the company. Industrial tenants are scrambling to find available space, and some are finding it only at premium rents, he notes.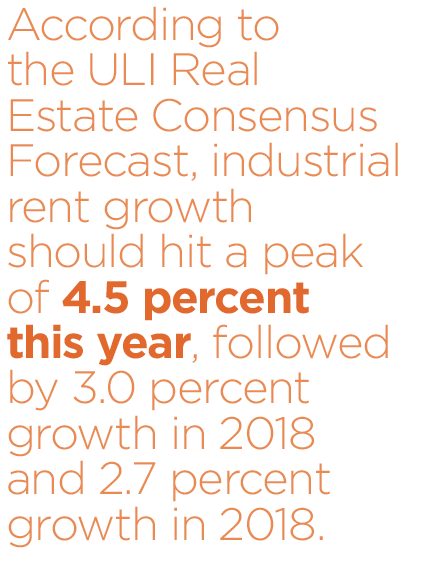 "With the exception of maybe Houston because of the oil prices, we really don't have many markets with challenges," Caton says. "You've got pricing normalizing in places like Chicago and Atlanta, or markets such as San Francisco where it's so dynamic because of lack of available space."
The subdued rent growth in the rest of the world has been due to a slower recovery from the recession (Europe is the prime example) or growth that has been maturing for some time, such as in China.
Prologis executives note that their examination of top markets and the firm's own holdings show that global industrial vacancy rates should remain low, and rents high, for the next several years. A survey of economy experts released recently by the Urban Land Institute also concluded that rents at U.S. industrial properties will remain high through 2018, but predicts that rent growth will now begin to moderate.
According to the ULI Real Estate Consensus Forecast, industrial rent growth should hit a peak of 4.5 percent this year, followed by 3.0 percent growth in 2018 and 2.7 percent growth in 2018. Availability should drop to a historic low point of 9.2 percent by the end of 2016, but will likely increase to 9.5 percent in two years, according to the survey respondents.
William Maher, director of North American strategy for LaSalle Investment Management and one of the respondents to the survey, said in a statement the slowdown will be a good thing. The surprisingly robust growth of the commercial real estate sector following the recession has worried some that another bubble was forming, he noted. While most commercial real estate sectors are seeing strong growth, there are signs of a calming period coming, Maher said.
"Compared to six months ago, real estate researchers are predicting slower economic growth, slipping real estate fundamentals and lower returns from both the public and the private markets," he said. "As was the case six months ago, there is no imminent downturn on the horizon, although global economies and markets remain fragile and volatile."