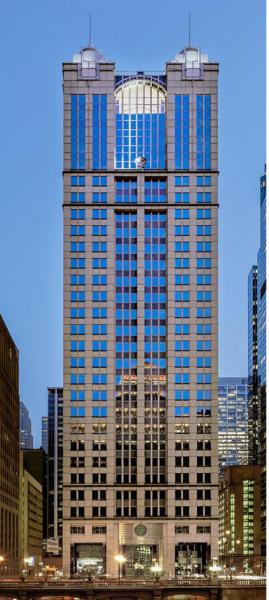 Mirae Asset Global Investments has entered into the Chicago market with the South Korean-based investor's purchase of 225 W. Wacker. The 225 West Wacker Acquisition Company sold the 31-story class-A tower, located in the city's prime West Loop submarket, for $218 million. Jones Lang LaSalle's Capital Markets Group arranged the deal and also secured $115 million in acquisition financing through Principal Real Estate Investors and Allianz Real Estate of America, who provided the five-year loan.
Jones Lang LaSalle's International Director Bruce Miller, Managing Director Jim Postweiler and Vice President Nooshin Felsenthal led the sales team, while Executive Vice President Keith Largay, Managing Director Dave Hendrickson and Vice President Ian Russell led the financing efforts on this transaction. International Director Steve Collins provided international expertise.
"International investors seeking higher yields are setting their sights on Chicago, as core office assets in coastal markets are becoming more scarce and expensive. Chicago is starting to see the resurgence of cross-border investment, as evidenced by this transaction," Miller said in a statement. "With significant new demand drivers in the Chicago CBD, the sale of 225 W. Wacker provided a tremendous opportunity for Mirae to make its debut here and purchase one of Chicago's most prominent office buildings offering both strong historic performance and an impressive institutional-quality tenant roster."
Constructed in 1989, 225 W. Wacker recently underwent an $8 million capital improvements program including lobby upgrades, elevator modernization, restroom and corridor renovations and an amenity floor that rivals new construction. The 650,812-sq.-ft. property is currently 91 percent leased to tenants including Edwards Wildman Palmer, PPM America, Merrill Lynch, CBIZ, Booz & Co., True Partners Consulting and Apple.