Being careful is what hospital staff members routinely do for their patients—but it's a relatively new concept to encourage health care property owners, developers and designers to be just as conscientious about the building itself.
Even though medical buildings use more than twice the energy of the average office tower, health systems began adopting green practices somewhat later than office and public owners. The industry has learned fast, however. Organizations such as the Green Guide for Healthcare helped write the USGBC's LEED health care standards, and Reston, Va.–based Practice Greenhealth has more than 1,200 members of health care organizations and suppliers, with members such as Bayer Corp. and Baxter Healthcare Corp., as well as Sonoma Valley Hospital in Sonoma Valley, Calif., and Evanston Hospital in Evanston, Ill.
Ventas Inc., one of the largest owners of health care-related property, has seven buildings certified to U.S. Green Building Council LEED standards, with further capital improvements that have reduced energy use at owned medical office buildings exceeding $14 million since 2007. Lori Wittman, senior vice president of capital markets for Ventas, says there are three reasons her company has invested in green.
"First, of course, it's important to be a good corporate citizen. Second, when you have a building that's Energy Star or LEED certified, you can get higher rents and higher occupancy, and that provides a better return for investors. Third, it's important to tenants and to our operating partners. When companies are engaged in sustainability, that's one example of their excellence," Wittman says.
In May, Oakland, Calif.–based Kaiser Permanente announced that it will design all of its future health care buildings, with about $30 billion in spending planned for more than 100 new hospital and medical office buildings by 2023, to the USGBC's LEED Gold standard. The company's first building to reach that standard, the 126-bed Westside Medical Center in Hillsboro, Ore., opened this month.
Don Orndoff, senior vice president of National Facilities Services at Kaiser, says he agrees that health care has trailed other product types such as offices and public buildings in pursuing sustainable practices. The medical field is picking up fast, however, and Orndoff says it's become commonplace enough that the LEED Silver standard is seen as now the bare minimum for new construction. The cost has also gone down enough, he says, that designing for green only raises development expenses by about 1 percent, if that.
"It's become easier, too, as there are more companies out there making products for sustainability," Orndoff says. "It's also easier to find partners who believe in green. We have rewritten RFPs and contracts that make sustainability efforts not just an extra, but a basic offering. We'll tell them, if you're not interested in sustainable design, we're not interested in dealing with you."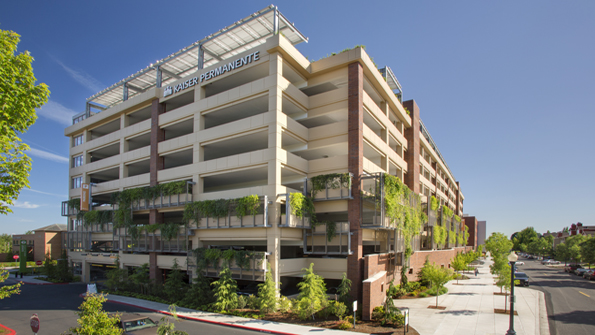 Kaiser has actively sought energy- and environment-saving features in its buildings. Solar panels atop a parking structure at the firm's Santa Clara Medical Center helped generate 17 million kilowatts of energy in 2012, one of 12 properties where the firm has installed solar power. The organization has reduced its greenhouse gas emissions by 30 percent from 2008 with renewable energy, Orndoff says.
"We're in a unique position when it comes to sustainable buildings, as our goal is already keeping people healthy," he says. "If we can create a clean environment, if we can keep the air, water and soil clean and have access to healthy food choices, then they are going to be healthier and active longer. We exist to improve the community."