The Affordable Care Act (ACA) has had an impact throughout the health care industry. The new rules and millions of additional patients have pushed many doctors into larger practices, which are now moving into more off-campus properties.
The ACA has added more than 16 million new patients to the health care system, according to the Obama administration. The Act, which brought out more stringent rules for providers, has encouraged many independent physicians to partner with larger organizations, according to a mid-year 2015 Medical Office Report from brokerage firm Marcus & Millichap. Add in the millions of Baby Boomers expected to reach retirement age over the next 10 years, and these trends are generating consistent demand for single- and multi-tenant medical office buildings (MOBs) located close to residential neighborhoods and retail areas.
John Smelter, senior director with Marcus & Millichap's healthcare real estate group, says hospitals are buying up small physician practices in order to expand their footprint in nearby communities. "So much of health care delivery is done today is an outpatient facility," he says. "Only the very sick, and maybe expectant mothers, are placed in the large hospital campuses. Most visits are at outpatient MOBs that take a couple of hours and the patient can go home."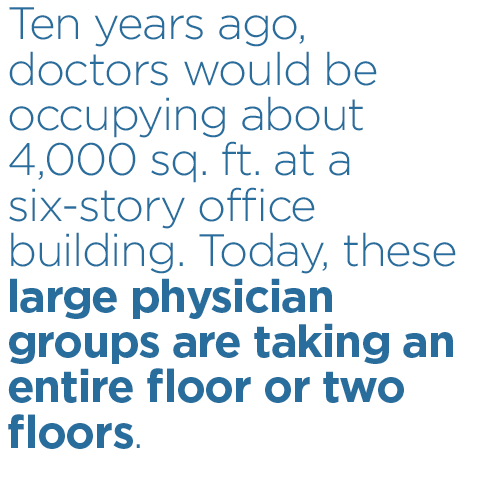 More demand has led to more development. Marcus & Millichap estimates that construction completions this year will hit 8.8 million sq. ft., significantly higher than the 7.1 million sq. ft. delivered in 2014. The vacancy rate in the MOB sector is currently at 9.7 percent, representing a drop of 20 basis points over the past 12 months. "Deliveries are still way below where they need to be, given the number of new insureds in the system," Smelter says.
Health care systems want to capture more market share by providing facilities that can be placed near suburban areas, he adds. These systems are picking up the former individual practice doctors who now find it more feasible to join large groups. This has pushed up space needs for properties.
"Ten years ago, doctors would be occupying about 4,000 sq. ft. at a six-story office building. Today, these large physician groups are taking an entire floor or two floors," Smelter says.
The advent of these larger tenants has boosted property values. A hospital group has a better credit rating, generating strong investor interest. Brand new facilities with leases that extend 10 years or longer in strong urban locations, are trading at cap rates in the low-6-percent range, with top tier assets reaching into the 5-percent range.
Mindy Berman, managing director in the capital markets group of real estate services firm JLL, says MOB sales have been running at a fast pace. The peak volume level has been about $5 billion per year for the past three years, and the first half of 2015 saw $3.7 billion in sales already. And hat number doesn't include enterprise and merger sales.
"Portfolio sales are what's driving total sales volume," Berman says. "The first half saw $2 billion of just portfolio sales, while all of last year there was only $1.4 billion."
The strong demand and sales activity has pushed up prices to historic highs, reaching an average of roughly $300 per sq. ft. nationally, Berman says.
"The market has become very competitive, as supply is growing but the demand side is still strong," she notes. "The good news is that sales volume is very high, and there's been new entrants and aggressive capital chasing deals."