After Ventas Inc. acquired hospitals company Ardent Medical Services Inc. and an affiliate earlier this month for $1.75 billion in cash, Ventas' shares jumped to $76.90, the highest they've been since October 2011. Shortly after the acquisition, Ventas CEO Debra Cafaro announced that the Chicago-based health care REIT plans to spin off most of its skilled-nursing and rehabilitation properties into another REIT.
Ventas had been looking for a point of entry into the $1 trillion U.S. hospital market, Cafaro told Bloomberg, and finally found it in Ardent. The transaction is expected to add 8 cents to 10 cents a share to earnings in the first full year after it's completed, Ventas said in a statement.
NREI spoke with Cafaro about what was behind the deal and what Ventas hopes to gain from it. An edited transcript of that interview follows.
NREI: What was the motivation for the skilled nursing facilities REIT spinoff? How will it benefit Ventas?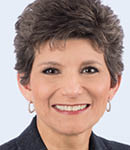 Debra Cafaro: The motivation to spinoff most of our post-acute care facilities is to create two companies, each poised for growth with differentiated strategies. The new company will be a skilled nursing facility (SNF) pure-play REIT providing capital to local and regional operators that will take advantage of the increased values in the post-acute space and strong external growth prospects. Ventas will also be a better company—positioned for higher growth, deriving 83 percent of our net operating income (NOI) from marquee care providers and increasing our diversification by keeping post-acute assets operated by leading national care providers such as Kindred, HealthSouth and Genesis. We also will have the highest dividend growth rate in our sector, a great balance sheet, scale at over $30 billion, best-in-class medical office building (MOB) business and a high-quality senior-living operating portfolio. Following the spin-off, SNF rent will only contribute about 4 percent of our NOI compared with a current level of 18 percent. That's an industry leading spot.
NREI: Why did Ventas settle on Ardent for the acquisition? What does Ardent offer that other hospital operators didn't?
Debra Cafaro: Ardent offers the qualities that we seek in our acquisition: best in class management team, good market share in attractive markets, opportunities for growth in a consolidating sector, and a strong nucleus of high-quality real estate assets. This is an important beachhead investment for us in the trillion-dollar U.S. hospital market that, some time ago, we identified as a space where we want to be a leader. Ardent has a long and strong track record in operations and acquisitions and a scalable infrastructure. With Ventas capital and Ardent capabilities, we believe we can be a leader in hospital consolidation.
NREI: Obviously, medical facilities and seniors housing properties are in high demand right now among users as well as investors. How long do you think this trend will continue?
Debra Cafaro: Positive trends in healthcare flow from demographics and policy. First, our population is aging; by 2030, 73 million Americans will be over the age of 65, and 70 percent of them will need some kind of long-term care. Spending by seniors over the age of 65 increases substantially as they become Medicare eligible, and 10,000 Americans are turning 65 every day. Finally, the 85+ age cohort is expected to triple between 2012 and 2040. Senior housing will benefit from all these trends, as will medical office buildings and long term care.
On the policy side, the Affordable Care Act is expected to provide access to healthcare to 25 million individuals, which should benefit hospitals and medical office buildings. The permanent "fix" to the physician payment formula just passed should also benefit our physician tenants.
Finally, our buildings are where essential care and comfort are provided to so many individuals and their families. The demand for care is very strong and inelastic. As a result, cash flows at senior housing asset and health care facilities have proven to be very stable and positive. Investor desire for durable cash flows will be with us for a long while.
NREI: Regarding medical facilities and seniors housing projects, which geographic markets and property sub-sectors do you see as having the best opportunities right now?
Debra Cafaro: We invest in high barrier-to-entry markets that have above-average growth in population, especially seniors population, high single-family home values, good job creation and positive economic outlooks. For example, 25 percent of our seniors housing operating portfolio is located in and around the New York metro area. We prefer MOBs that are on the campus of "winning" health systems as well as MOBs with strong hospital sponsorship that server as centers for clinical care in growing affluent communities.