In many recovered housing markets, Americans are now paying more for condominiums than they did during the housing boom, according to the S&P/Case Shiller Home Price Indices. But developers are barely building new condominiums to meet that demand.
"Developers are really not back yet," says Robert Denk, senior economist with the National Association of Home Builders (NAHB).
Perhaps they know from the experience of the last crash how difficult it is to turn larger luxury condominium units into rentals if the market turns. Or perhaps they have simply been more successful building and filling rental apartment buildings. Eventually, however, new condominium construction is likely to rise to historically normal levels and will probably benefit from the same demand for downtown apartments that has helped fill many rental communities.
"Not much is happening in that space yet, beyond the meaningful activity in Miami and some uptick in New York and San Francisco," says Greg Willett, of MPF Research, a RealPage company.
Condominium developers are also doing little to convert existing rental properties to condominiums. "On real estate investment trust earnings calls this quarter, the analysts tend to be asking the REITs with the most upscale product whether condo converters are trying to buy properties from them," says Willett. "The uniform answer is 'no.'"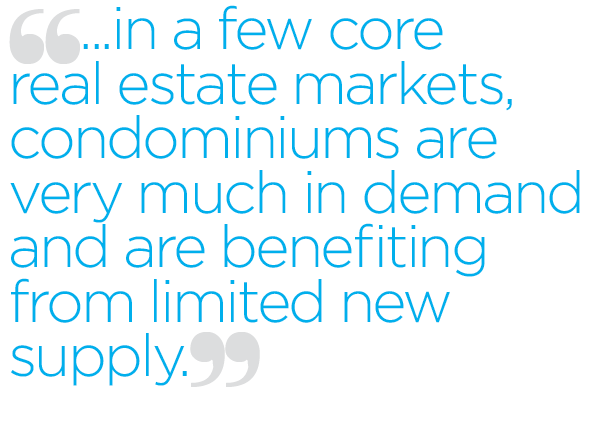 The condominium business is being held back by the same forces holding back single-family housing, according to Denk. "I am surprised and disappointed that the single-family is recovering as slowly as it is," he says. "The condo market is sort of the same story."
Overall, homes are now selling at a slightly faster rate than during and immediately after the financial crisis, but many households that would normally buy continue to rent. Demand for mortgage credit is very weak, according to an analysis by CoreLogic, Inc. A full recovery for both condominiums and single-family homes won't come until job growth and economic growth create enough potential homebuyers who feel secure enough to buy, according to Denk.
High-priced cores
However, in a few core real estate markets, condominiums are very much in demand and are benefiting from limited new supply. Condo prices are significantly higher than they were even at the peak of the housing boom in three of the five metro areas tracked by Case Shiller. Just to compare, overall home prices are still 10 percent below their peak levels, according to Case Shiller's broader U.S. National Home Price Index.
In San Francisco, condo prices are 11 percent higher than during the housing boom peak in 2006—and 73 percent higher than at the bottom of the market in late 2011. New York and Boston condos are also selling for more today than at the peak of the housing boom, by 8 percent and 10 percent respectively. Condo prices in both cities are up about 29 percent from the crash, according to Case Shiller's February Seasonally Adjusted Condominium Index Levels, released in April.
Chicago's condos still sell for about 17 percent less than during the boom years, but prices are up about a third from early 2012. Los Angeles condos also sell for 14 percent below peak levels, but prices in the city have gone up 47 percent since late 2011.
Little new construction
So far, new condominium construction remains low, compared to both the usual rate of condo construction during past market cycles and the rate of new rental construction now. Developers started construction on just 28,000 new for-sale multifamily units in 2014, according to data from the U.S. Census. That's almost twice the number of units that started construction in 2010, but it's still far fewer units than normal.
Compare that to 356,000 units of multifamily housing that started construction last year, including both rental and for-sale homes. "Multifamily housing starts overall are back to normal," says NAHS's Denk. "But there has been a big shift towards rental and away from condo units."
In a more normal year, about one in five multifamily units built are slated for sale. From 1992 to 2002, condominium developers built an average of nearly 60,000 for-sale multifamily units a year, or 20 percent of the average 300,000 units of multifamily housing that started construction on an annual basis during that period. And it's about twice the number of condos that developers started construction on last year.