Apartment properties are worth more money if they are sustainably designed—and lenders and property buyers are finally beginning to offer terms that reflect that value.
The evidence is just beginning to pile up. For example, the underwriters at Fannie Mae recently began to offer larger loans and lower interest rates to sustainably developed apartment properties.
In April, Fannie Mae closed the first loan under its Multifamily Green Building Certification Pricing Break program. It lent $10.2 million to the Station House, a 50-unit apartment community in Maplewood, N.J., that has earned a Leadership in Energy and Environmental Design (LEED) certification from the U.S. Green Building Council. Fannie Mae rewarded the property with interest rate that is lower than usual by 10 basis points for the permanent loan. That will save the owners of the property, Prudential Real Estate Investors, $101,000 over the life of the loan.
Fannie Mae is expecting many more Multifamily Green Building Certification Pricing Break loans to close this year. "We have a hugely-growing pipeline," says Chrissa Pagitsas, director of Fannie Mae's Multifamily Green Initiative.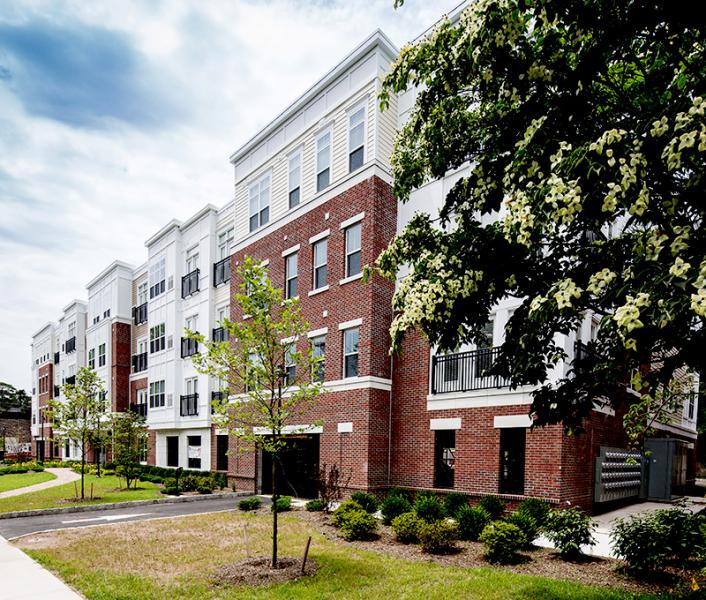 Fannie Mae's underwriters also consider the likely savings from energy efficient design when they figure the likely income from the property. That allows them to underwrite larger loans. A sustainably-developed property that could normally support a $10 million permanent loan would be able to support a $10.26 million loan—an extra $260,000. "We are going to give you extra loan proceeds," says Pagitsas. "We value these properties and want them on our books."
Fannie Mae's bond investors also recognize the value the sustainable design has given these properties. By the end of 2014, they had already bought $140 million in Fannie Mae bonds backed by the loans to the energy-efficient properties in Fannie Mae's Green Preservation Plus program.
Sales premium
Investors also now pay more for energy-efficient commercial and multifamily real estate properties, according to "Energy Efficiency & Financial Performance," a report from the U.S. Department of Energy (DOE), which reviewed more than 50 studies conducted by other firms and organizations. Buyers paid 10 percent to 31 percent more for properties that have earned a LEED certification, compared to comparable buildings without the certification. Buyers paid 6 percent to 10 percent more the properties that had earned an Energy Star designation.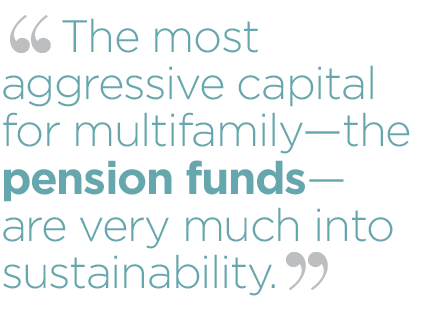 Energy-efficient properties may also attract a better class of buyer. "The most aggressive capital for multifamily—the pension funds—are very much into sustainability," says Jon Hallgrimson, executive vice president for CBRE. "You would greatly narrow the field of possible buyers for an apartment property if it's not green."
That's a big change from a few years ago. "Five, six, seven years ago it was not so much of a threshold issue," says Hallgrimson.
NOI
Researchers are also quantifying the savings provided by energy efficient design. The most efficient properties save as much as $165,000 per year compared to the least efficient properties, for an average, 125-unit apartment property, according to Fannie Mae's study of more than 1,000 apartment properties across the country.
Properties with an energy designation spend an average of 13 percent less on electricity and utility compared to similar, non-rated properties, according to DOE's survey of more than 50 other studies.
Despite all this good news, however, property owners should be cautious as they invest in improving their own properties. They are likely to save a lot of money, as well as add a lot of value to their properties. However, they might not save not save quite as much as they hoped, according to a 2012 report from DeutscheBank that studied retrofits of 230 apartment properties. While fuel savings projections ranged from 25 percent to 50 percent across about two-thirds of the buildings, most projects actually saved 10 percent to 40 percent, according to the report.
"A lot of the time, what your engineer tells you your going to get, that's not what you're going to get," says Allison Porter, vice president of sustainability services for Cushman & Wakefield.