In the wake of the ongoing federal investigation of financial relationships between lawmakers and commercial real estate campaign donors who have business with the state, questions are being raised as to whether New York State Gov. Andrew Cuomo is directly involved.
To recap the unfolding scandal so far: Both the legislature's top-ranking Democrat, Sen. Sheldon Silver of Manhattan, and former senate majority leader Dean Skelos of Nassau County, have been arrested, and Glenwood Management, a New York City real estate management firm headed by Leonard Litman, which is Cuomo's biggest donor, has been implicated. U.S. Attorney Preet Bharara in Manhattan is handling both the Silver and Skelos cases in the continuing probe.
 In January, Silver was charged with using his office to benefit his real estate industry donors and accepting almost $4 million in bribes and kickbacks, according to the Associated Press; Skelos was charged in May with using his power over real estate laws to enrich his son, Adam, a real estate developer based in New York City.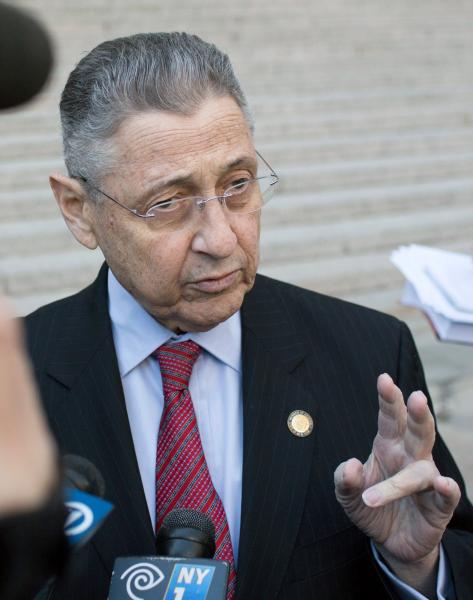 Strangely, reports Yahoo News, Silver's arrest occurred the day after Cuomo's 2015 budget presentation, which contained a picture of the governor, Silver and Skelos wearing sombreros; Cuomo referred to himself and the two senators as "three amigos."
Prosecutors allege that Skelos pressured several companies doing business with New York State to provide commission sales work or employment to his son. He also pressured a real estate developer and environmental technology company to pay his son more than $200,000 in exchange for his support of an infrastructure project. In addition, Adam Skelos earned title insurance commissions from real estate developers with legislative business and more than $100,000 for a no-show job for Physicians Reciprocal Insurers, a medical malpractice insurer that was actively lobbying his father.
The Alliance For Tenant Power, a group of activists advocating for stronger tenant protections, is calling on Gov. Cuomo to return $1 million in donations he received from Glenwood Management. "The best way to show that Glenwood is not influencing your decisions in any way is by rejecting their tainted money and saying in public that the scandal-scarred firm should never contribute to you again," the group wrote in a letter to Cuomo in May, according to the New York Daily News.
In response to the letter, Cuomo stated at a press conference that Glenwood has not been accused of any wrongdoing, and his aides say that donations do not impact his decision-making. According to Capital New York, Cuomo also said he would continue to ask Glenwood to donate to his campaigns.
Meanwhile, Cuomo's administration is blocking release of details about the transactions involving New York State and Glenwood, according to the International Business Times. In a letter obtained by IBTimes this week, the New York State Housing Finance Agency stated that it cannot release the documents because it is "cooperating" with the federal investigation. This letter, reports IBTimes, marks "apparently the first time New York state officials have acknowledged Cuomo's housing agency—as opposed to just state legislators—is involved in the investigation."
An anonymous official at the state's housing finance agency told IBTimes that the agency is cooperating "with respect to publicly known investigations of indicted individuals." In addition, the New York Post reports that Glenwood's Charles Dorego is also cooperating with the investigation.
New York's housing agency chair is appointed by the governor, and its former chairperson, Bill Mulrow, became Cuomo's top aid. Just weeks after Silver's arrest, the agency approved a state-supported low interest loan for Glenwood to build a new luxury apartment building in midtown Manhattan.
The investigation became news in 2014 after Cuomo attempted to close down the Moreland Commission, an anti-corruption panel, shortly after it began investigating real estate donors with relationships to legislators and the governor himself. According to the New York Times, a Cuomo aide moved to block the panel from subpoenaing the Real Estate Board of New York—which named Glenwood's Litman its Lifetime Honorary Chairman in 2012.
The New York Times also reports that one of Glenwood's top executives is believed to be cooperating with U.S. Attorney Bharara's investigation.
The New York Post reports that Bharara's probe moved closer to Cuomo in late May with an indictment alleging that insurance executive Anthony Bonomo, who heads Physicians Reciprocal Insurers and is chairman of the New York Racing Association and a top Cuomo donor, provided the no-show job to Adam Skelos and whose family contributed $250,000 to Cuomo's campaign. An unidentified "senior state Democrat" reportedly told the Post that "the fact that Bonomo…is cooperating with Bharara brings the whole investigation a giant step closer to Cuomo."
So, will the buck finally stop with Cuomo himself? According to the New York Post, although Bharara will not reveal who else is under investigation, he has told the media to "'stay tuned' for more high-profile arrests."
But at least one commercial real estate exec does not believe it will hurt Cuomo even if he is implicated. "Growth hides all sins," Charles Grande, head of muni research in New York for UBS Global Asset Management, told Crain's New York Business.