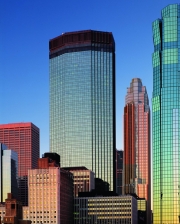 MINNEAPOLIS—Fresh off its $253 million purchase of the IDS Center on Nicollet Mall last week, Beacon Investment Properties LLC has appointed both Jones Lang LaSalle and Cassidy Turley to lease up the 1.4-million-sq.-ft. property.
Ariel Bentata, chief investment officer and founding partner of Hallandale Beach, Fla.-based Beacon, said JLL will lease the 57-story office tower, while Cassidy Turley will lease space in the Crystal Court retail plaza.
Jim Durda, vice president and general manager of IDS Center for previous owner Inland American, joins Beacon in the same position. He has managed the building for the past 19 years. "After 19 years, we've learned when this iconic property sells, the buyers bring in new ideas, new energy and new capital," Durda said in a statement. "What is personally exciting for us is that Beacon and its partners are long term investors. They are committed to enhancing the IDS Center with new amenities while instantly establishing a Minneapolis presence."
Jon Dahl, senior vice president, and Brent Robertson, vice president, head Jones Lang LaSalle's office leasing team and Andrea Christenson, vice president for Cassidy Turley, leads the retail leasing team. The Cassidy firm recently relocated its Minneapolis headquarters to the IDS Center.
The 57-story tower is considered to be Minnesota's tallest office building. Designed in 1972 by Philip Johnson, it features glass and steel construction, a 25,000-sq.-ft. indoor park and fountain and a two-level retail plaza.
The office portion of the building is 93 percent leased to tenants including Lindquist & Vennum, Merchant & Gould, Kraft Foods Group, Nickelodeon-MTV, Wells Fargo Advisors and Bank of America, among others. The retail plaza is 100 percent leased. Retail tenants at the property include Banana Republic, Gap, Hubert W. White, Mission American Kitchen and Bar and People's Organic Café.