This isn't your father's office market—technology firms, the most active prospective office tenants today, are altering the traditional idea of preferred office space.
Though they still lag the traditional professional services tenants for the overall share of space in most markets, technology firms have led the move back into Central Business Districts (CBDs), in part because their Millennial employees want easy access to downtown amenities and live/work/play environments. Brokers are also trying to keep up with the changes in space demands, including the growing preference for open spaces over traditional offices, efficiency over expansion, secondary markets over class-A buildings in primary cities and, in some markets, a new trend of preferring low-rise buildings or lower floors in high-rise buildings to higher-priced floors at the top.
The high rents at office towers are driven by the lack of new development and improved economy. Demand for office space has increased to pre-recession levels, according to a recent 2015 Outlook report from commercial real estate services firm Colliers International, with the national vacancy rate now at 13.1 percent, the lowest level since 2008. Andrea Cross, national research manager with Colliers, says demand from technology tenants continues to be robust, with increased leasing from both small start-ups, as well as tech titans like Amazon and Facebook.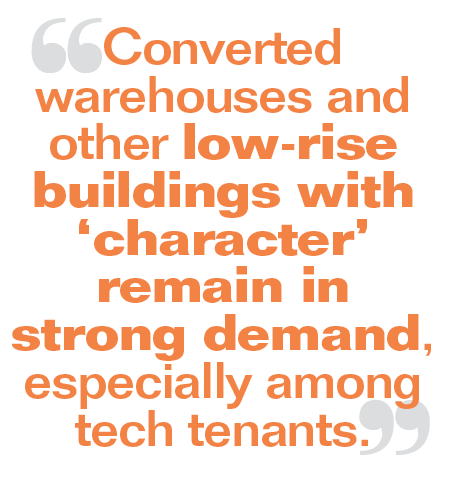 "The growth and maturation of the tech industry, as well as the current accommodative financing environment, are driving this demand," she says. "Converted warehouses and other low-rise buildings with 'character' remain in strong demand, especially among tech tenants. The classic example is SoMa in San Francisco, one of the hottest office sub-markets. Other examples include the Flatiron District (Midtown South) in Manhattan, the Fulton Market area in Chicago, and the Arts District in Downtown Los Angeles where several industrial buildings are slated for conversion to office or mixed-use."
The trend is most pronounced in Boston, the East Coast's Silicon Valley. The tech sector is flourishing in the city, through technology start-ups, established Internet firms, research and development hubs, laboratories and health care companies. As a result, there are more technology tenants looking to expand their offices than professional services firms. These firms are confounding the broker community by holding lower floors in higher value than upper floors, leading to an unusual disparity in rent increases, according to a recent report from real estate services firm Cushman & Wakefield.
Space on the lower floors in towers with 20 or more floors has been moving at a faster pace than space on the higher floors in the Boston market. Vacancy in the higher floors at these towers has risen from 10.8 percent in 2011 to 11.2 percent in 2014. At the same time, vacancy in the lower tower floors went from 17.7 percent to 10.0 percent, according to the report.
Maria Sicola, Cushman & Wakefield's head of research for the Americas, says today's Boston tenant is trying to save money in a strong market where spaces on the higher floors with amazing views are renting at a premium. However, she notes it's also true that tech firms don't hold location in as high regard as traditional tenants do. The differing needs of the new Millennial-friendly employers, who value walkable communities and urban environments, have drawn activity away from the more traditional sub-markets like Cambridge and back into the Boston CBD.
"With the tech firms, it's not about a view, it's about how they can showcase their brand," she says. "The traditional FIRE (financial, insurance, real estate) tenant needs and law firms cater to high net worth clients; they want to make an impression with a high floor and impressive view. Today's active tenants in Boston don't care so much about that. They instead want to take the money they save by taking a lower floor and fit out the space with cool features and amenities that will attract their labor force, such as open, collaborative spaces and lots of technology."
Mark Stewart, branch manager of the New England office with commercial real estate services firm Savills Studley, says he's not sure tech firms are so different from their FIRE counterparts. In his opinion, it's really all about the money. If they had a choice, everyone would prefer a view, he notes.
"I think there are a few landlords of low rise space who are trying to market the open floor plans, etc. as being more desirable, but I think this is really a case of the explosive growth of building valuations and the resistance to the increased rents for high-rise tower space," Stewart says. "This is about Yankee frugality."