The office tenant base is growing faster than new development can keep up with, forcing the national office vacancy down in the third quarter to its lowest point since the recession and pushing up rental rates.
Office vacancy fell to 13.5 percent in the third quarter, according to a market report from commercial real estate services firm CBRE, a decline of 80 basis points from 14.3 percent in the third quarter of 2014. Occupancy in the sector has increased every quarter since the recession, according to Jeff Havsy, chief economist for CBRE. Economic fundamentals are pointing to a sustained U.S. office expansion in 2015, he said in a statement.
"The Federal Reserve's September decision to delay its interest rate hike will help to keep interest rates down, further promoting real estate investment," Havsy said. "Robust office demand is expected to continue to outpace new supply in the near future, leading to further tightening of the vacancy rate and keeping rent growth above inflation in a majority of U.S. office markets."
A lack of available space has created a landlord's market in most areas, with tenants looking at either higher rental rates or having to search for alternative locations. Investment firm Starwood Capital Group, for example, recently purchased the four top underutilized floors totaling about 300,000 sq. ft. at the Macy's store in downtown Seattle, for $65 million. The firm plans to convert the space for office use on a speculative basis.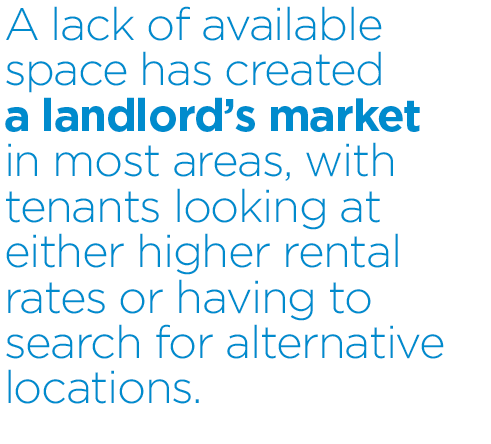 Mark Deason, senior vice president with Starwood, said in a statement that the competitive employment market is making companies rely heavily on their office space as both a recruitment tool and a mark of identity.
"We believe that this asset offers exactly the kind of highly amenitized, lifestyle-oriented office that is in very limited supply and high demand in Seattle today," Deason said. "We look forward to beginning construction shortly, and expect to deliver the space to market in the fourth quarter of 2016."
Immediately following the recession, job growth was lead primarily by the technology and energy sectors, but has now spread into all professional services areas, according to Julia Georgules, vice president of U.S. office research for real estate services firm JLL.
"The third quarter saw a huge push by tenants; about 50 percent of them are expanding," she says. "These tenants are looking for the new space, but there [are] not [many] large blocks available. There was an uptick in new groundbreakings this past quarter, but the supply that should begin to come on-line in 12-18 months will be expensive, as much as 40 percent higher than market rate."
Office rents grew by 1.6 percent in the third quarter, marking a cumulative 4.3 percent increase since the beginning of the year, according to a third quarter report from JLL. Some of the strongest Central Business Districts (CBDs) saw rates jump as much as 9.1 percent in 2015 year-to-date. New York City, Portland, Ore., Salt Lake City and San Francisco are the tightest markets, all posting vacancy rates of less than 10 percent. Only 1.8 million sq. ft. of new development was delivered in the four cities this year.
As new supply comes online, the tightness will ease somewhat for tenants, Georgules says. Just in the four cities above, there are 20.6 million sq. ft. of new construction underway that will open in the next two years.
"We expect in the next six to 12 months, we'll continue to see groundbreakings increase," she says. "And when some tenants flock to the new, pricier office buildings, there will be opportunities that open up in second generation space at lower rates."