Americans just can't get enough coffee, and that's good news for coffee chains. Both domestic and international brands are opening new stores across the country, providing a plethora of choices for even the pickiest of coffee drinkers. 
The two major players in the coffee segment, Starbucks and Dunkin' Donuts, dominate the space with more than 60 percent of the U.S. retail coffee market collectively, according to Jerry Hoffman, president of Hoffman Strategy Group, a Lincoln, Neb.-based urban retail and land use consultancy. Other widespread chains such as Peet's and Coffee Bean & Tea Leaf have a good share of the rest.
"With that being said, there is a lot of vertical elasticity in this coffee shop market," Hoffman contends. "What's interesting about expansion efforts of newer coffee chains like CaffeBene, Tom N Toms and Paris Baguette is that they cross categories from a traditional coffee shop to a hybrid coffee shop and quick service restaurant. Handcrafted beverages and food items made with fresh baked pastries, breads and ingredients differentiate the marketplace by value and quality."
No longer just a breakfast beverage
More than three-quarters of Americans drink coffee, according to new research from the National Coffee Association (NCA). That figure confirms coffee's continued popularity among consumers and establishes coffee as America's top daily beverage choice next to water.
The NCA's 2015 National Coffee Drinking Trends also finds that 59 percent of Americans say they drink coffee each day, while 71 percent reported partaking at least once per week.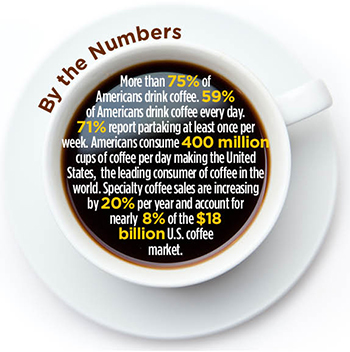 Americans consume 400 million cups of coffee per day making the United States the leading consumer of coffee in the world. Among coffee drinkers, the average consumption in the United States is 3.1 cups of coffee per day.
Specialty coffee sales are increasing by 20 percent per year and account for nearly 8 percent of the $18 billion U.S. coffee market, according to E-Imports. 
One of the biggest trends impacting coffee chains is evolving consumer behavior. While coffee continues to be a popular breakfast beverage, consumers are increasingly drinking java throughout the day. In 2015, 81 percent of daily consumers drank coffee at breakfast, a six-point drop over three years, according to NCA. During the same period, afternoon coffee consumption jumped by five points.
"Coffee isn't just a beverage that people enjoy in the morning," Hoffman points out. "The 'drinking coffee all day' trend is increasing customer visits to the stores."
Coffee chains are responding to this shift in consumer behavior by expanding their food offerings, along with introducing new beverage options. Starbucks, for example, continues to grow its breakfast and lunch menus, according to president and COO Kevin Johnson. The chain's expanded breakfast sandwich platform delivered 30 percent net revenue growth during the third quarter fiscal 2015.
The chain's lunch platform delivered greater than 20 percent growth during the same period. The menu includes warm sandwiches, bistro boxes and wraps. "… Starbucks is increasingly being recognized by our customers as an attractive option for lunch," Johnson said during the chain's recent earnings call.
U.S. chains continue expansion
Both Starbucks' and Dunkin' Donuts' recent financial results were among the strongest either company has reported. For Starbucks, third quarter fiscal 2015 "stands as among the most remarkable quarters" in the 23 years as a public company, according to Starbucks Chairman and CEO Howard Schultz.  
The chain's global comp store sales grew 7 percent, driven by a 4 percent increase in global traffic. "Let me put that 4 percent traffic increase figure into perspective," Schultz said during the chain's recent earnings call. "A 4 percent increase in global traffic on a business of our scale translates into having served over 23 million more customer occasions in Q3 of 2015 than in Q3 of 2014 or an average of approximately 25 more customer occasions every day from every single store in our nearly 10,000 store global comp base."
Dunkin' Donuts, meanwhile celebrated its 65th anniversary by surpassing 19,000 restaurants globally. Nation's Restaurant News recently reported that Dunkin' Donuts added more net new franchise units in the U.S. than any other quick service restaurant in 2014.
The chain's fast growing Americas segment opened 658 net new stores over the past 12 months and posted an 8 percent comp growth in Q3 with a 4 percent increase in traffic, resulting in 12 percent revenue growth and 17 percent operating income growth.
Through the first half of 2015, Dunkin' Donuts U.S. franchisees opened 158 net new units versus 144 during the first six months last year. The chain plans to achieve its full year goal of 410 to 440 net new Dunkin' Donuts U.S. restaurants, which would mark another year of greater than 5 percent net development.
Dunkin' Donuts executives describe the growth of the brand in the U.S. as "incredible" and contend there is still growth potential for the brand ahead. The chain recently hit the major milestones in California where it now has 10 restaurants with several more waited to open before the end of the year. And it recently sold our second store development agreement for San Francisco and now has commitments to open 275 stores in California over the next several years.
"We've been working very aggressively to recruit new franchisees, particularly for our contiguous westward expansion," says Steve Rafferty, senior director of U.S. franchising at Dunkin' Brands. "There's certainly high demand for this brand from franchisees, and we're very often in the position of being able to choose from among several highly qualified candidates."
Rafferty says Dunkin' Donuts is particularly interested in franchisees in Colorado, Georgia, Michigan and Louisiana, and in an effort to keep the brand fresh and competitive, Dunkin' Donuts offers flexible concepts for any real estate format including free-standing restaurants, end caps, in-line sites, gas and convenience, travel plazas, universities, as well as other retail environments. 
"We see a ton of runway for our brand in the states," Rafferty says.
Technology transforms coffee segment
While many coffee drinkers visit their favorite chain and spend time there just hanging out, convenience has become as important, if not more important, than ambiance. "We do have comfortable décor and our guests like the idea of having a comfortable place to drink and eat, but they're on their way to somewhere else," Rafferty says.
To that end, both Dunkin' Donuts and Starbucks are focused on technology that makes it easier and more convenient to purchase food and beverages from their stores. Dunkin' Donuts, for example, has an app that helps consumers find the closest store. That app has more than 30 million app downloads.
The chain also rolled out a loyalty program 18 months ago called Dunkin' Donuts Perks. The program has nearly 3.2 million members, which means that approximately 1 out of every 100 people in the U.S. is a Perks member.
Starbucks, meanwhile, is rolling out its Mobile Order & Pay concept. Last December, it launched the program in 150 of its company operated stores in the Portland area and then quickly expanded it to the full 650 store Pacific Northwest region in March.
"Mobile Order & Pay is enabling us to serve more customers more quickly and efficiently and to significantly reduce attrition off the line," Schultz noted. "We are already seeing positive impact on operating results."
To that end, Starbucks accelerated the rollout of Mobile Order & Pay and now offers it in more than 4,000 of its U.S. company-operated stores. The chain is on track to offer Mobile Order & Pay capability across the entire U.S. company-operated store portfolio in time for holiday season.
Schultz added: "In those stores where Mobile Order & Pay has been deployed, lines are shorter, service is faster and in-store operations are more efficient. The net result is increased traffic, incrementality that is exceeding expectations, improved throughput and an elevated Starbucks experience for our customers."
Competition from abroad
While U.S.-based chains continue to fight for market share and dominance, they're facing competition from abroad: South Korea's most successful coffee chains have set their sights on the U.S. market, according to Hoffman.
He points to the South Korean chains Paris Baguette, CaffeBene, and Tom N Toms, specifically. These chains are differentiating themselves with sophisticated menu offerings, unmatched customer service, and attractive, welcoming stores.
CaffeBene has the most aggressive expansion plan. It has opened 1,600 cafes in six years in a dozen countries.
"To put that in context, it took Starbucks 10 years to reach 1,600 stores," Hoffman notes, adding that CaffeBene wants to open 10,000 shops across the world by 2020. "To say the shop is ambitious is an understatement." The U.S. locations are mainly on the East and West coasts near major cities like New York and Los Angeles.
"Coffee shops, coffee houses, or cafés have always served as neighborhood gathering places for poets, writers, intellectuals, workers, and residents throughout the U.S., Europe, and other parts of the world," Hoffman says. "While coffee is the central product sold, the coffeehouse is an expression of lifestyles."