The retail sector is rebounding, albeit slowly. At the same time, it is in the midst of a metamorphosis brought on by the increasing use of omni-channel retailing and new store concepts.
At a time when a lot of chains are closing underperforming stores, there are five sectors where the industry will see an influx of brick-and-mortar openings, according to Neil Stern, senior partner with the retail consulting firm McMillan Doolittle. These will include online retailers opening physical stores; off-price retail; outlet and factory shops; new brands moving into retail and international chains. Online retailers, for example, are opening a different kind of retail store, one that drives sales back to their online sites by carrying less inventory and focusing more on the in-store experience. More outlet centers opening will create an opportunity for more outlet stores. International brands, such as German supermarket chain Lidl and MUJI from Japan, will continue to open stores in the U.S., while retailers with an established presence here, such as Top Shop from the U.K., will expand their portfolios. There will also be more "brands going retail," following the example of Apple, Microsoft and Nespresso, Stern says.
"Private equity and venture capital money are driving retail expansion worldwide," says
Michael N. Hirschfeld, executive vice president of national retail tenant services with real estate services firm JLL.
New on the scene
New retailing concepts are focusing on keeping customers in their stores longer, to increase the chances of in-store purchases. "New retail concepts keep the consumer in the store longer, make the store a place to stay," Hirschfeld says. He points to Lidl, known for its efficient service, appealing in-store displays and intuitive layouts. "Supermarkets never thought they had to be an experience."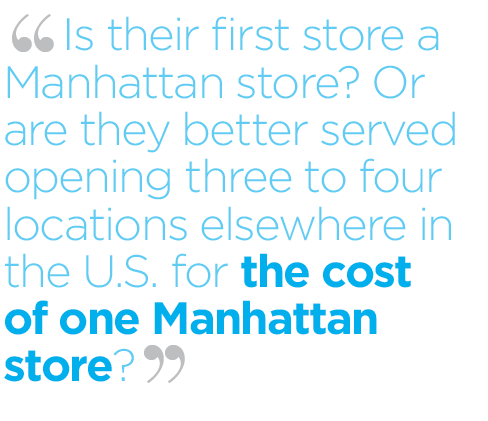 Primark, a fast-fashion chain from Ireland, is poised to possibly become the most disruptive new force in U.S. retailing, according to Stern, especially considering the company's aggressive expansion plans. Primark opened its first store last year in Boston's Downtown Crossing in the space previously occupied by Filene's Basement. It has since opened a location in King of Prussia Mall that was previously occupied by Sears. The big-box retailer requires multi-level spaces totaling from 50,000 sq. ft. to 100,000 sq. ft, says Mark Burlton, global executive of CBRE's retail representation team in Europe, the Middle East and Africa.
Why does the U.S. retail market seem so attractive to international chains? "Retail sales in the U.S. are greater than or equal to retail sales in Germany, Spain, Italy, France [and] the UK, combined," Hirschfeld says.
Demand for U.S. retail space has improved in the first quarter of this year, according to CBRE, with national availability averaging 11.2 percent. The firm estimates that in the first quarter, the following cities has availability rates below 8.0 percnet: Honolulu, Los Angeles, Miami, Oakland, Calif., Orange County, Calif., San Francisco, San Jose and Washington, DC. Meanwhile, both New York City and Las Vegas had availability over 10.0 percent.
Having store locations in the U.S. is not a panacea, however. "Just because a retailer enters the U.S., doesn't mean it will be successful. It needs a good strategic partner," says Brandon Famous, senior managing director at CBRE who oversees retailer representation business in the Americas. He cited British retailer Tesco's unsuccessful foray into the U.S. market as an example.
Where to go?
Generally, international retailers look to first establish themselves in U.S. gateway cities, but rent savings garnered by opting for secondary market locations may prove worthwhile. "Is their first store a Manhattan store?" Famous asks. "Or are they better served opening three to four locations elsewhere in the U.S. for the cost of one Manhattan store?"
A major driver for international retailers in answering that question is customer demographic. But so too is the retailers' history in the markets in which they've already established themselves. For instance, Famous says luxury brands want to be in urban high street environments and high-end malls. European stores are pretty comfortable with putting stores on streets, Stern says.
Meanwhile, retailers are still trying to figure out the best way to use e-commerce. Certain international retailers have successful online strategies, but feel brick-and-mortar presence is an absolute necessity. "The marrying of brick-and-mortar and e-commerce and how that affects the supply-chain relationship is still in its infancy," Famous says.
"The profile of retailing has changed so much in the past five-10 years, international retailers can only survive or thrive by having a certain amount of stores in key countries," says Burlton. At the same time, "substitution is one impact of online retailing, in that international retailers don't need that many stores. Five hundred stores could be 200-300 too many."
For which retailers is growth lagging? Department stores, being high-cost operators, fall into the weakest sector, according to Howard Davidowitz, chairman of Davidowitz & Associates, Inc., a national retail consulting and investment banking firm headquartered in New York. On the other hand, there will be store growth in the off-brand and cosmetics sectors, considered two of the fastest-growing retail sectors today, Davidowitz contends.
Hirschfeld echoed this point, noting that consumers' post-recession emphasis on saving money has been instrumental in the ascendance of both discount stores and outlet centers: "Everybody needs an outlet solution, consumers are demanding it. That's why outlets are moving closer to cities." Over the next two years, demand for outlet stores will only get stronger, he says.