Target Corp.'s decision to exit the Canadian market leaves 133 stores dark, and experts say finding tenants to backfill the 15 million sq. ft. of vacant big-box space will be difficult.
"The average Target store in Canada was about 120,000 sq. ft.—that's a big space— and you can count on one or two hands the number of tenants in excess of that size," says John G. Crombie, senior vice president of retail leasing for Triovest Realty Advisors, one of the largest real estate investment and management firms in Canada. "There just aren't a lot of prospects to take the entire space. It's a fairly slim selection."
Triovest manages 4.6 million sq. ft. of retail space across Canada, primarily in power centers. They work on behalf of large institutional clients including pension funds. Currently, the firm has three Target stores in its portfolio, two in the Toronto area and one in Vancouver.
"I think a lot of landlords are going to have to redevelop [the empty Target] space, perhaps even into new types of uses like office or medical," Crombie says.
Crombie expects Target's exit to push retail vacancies up by 2.8 percent. "That is a significant lift—15 million sq. ft. is equivalent to two years of new development here," he points out.
Less than great real estate
Walmart, Costco, Canadian Tire and Loblaw are among the retailers that are the right size to take Target real estate. However, experts question what kind of interest the stores will generate.
In an article published in the Harvard Business Review, Denise Dahlhoff, research director of the Baker Retailing Center at the Wharton School of the University of Pennsylvania, wrote that Target's Canadian store locations were "often out of the way".
"The real estate was part of Target's problem," Crombie contends, noting that the Minneapolis-based retailer took over stores previously occupied by Canadian discounter Zellers. "A lot of those locations weren't that great."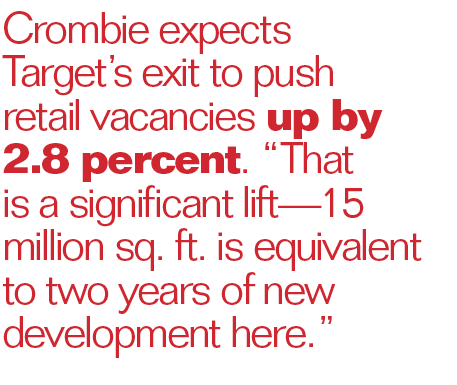 Moreover, some experts suggest those stores are tainted by Zellers' failure, and now Target's. "No one really wants to talk about this, but Zellers was not a retailer that people loved," says one real estate expert based in Vancouver. "To a large extent, Target's new stores had a stigma. Despite the rebranding, it just was the same old Zellers. People went once, and they didn't go back."
Dahlhoff said the stores "weren't up to par with Target's U.S. look" and struggled with distribution challenges and shelf replenishment. "Particularly for Canadians familiar with Target, the poorly stocked shelves, an assortment that differed from the U.S. stores' and often higher prices than in the U.S. all combined to discourage traffic," she wrote.
Fiercer-than-expected competition
Target's Chairman and CEO Brian Cornell said in a press release that the retailer was "unable to find a realistic scenario that would get Target Canada to profitability until at least 2021."
Target's cash costs to discontinue Canadian operations are expected to be $500 million to $600 million, most of which will occur in the company's 2015 fiscal year or later. The company has sufficient resources to fund these expected costs, including cash on hand and ongoing cash generation by its U.S. business.               
"What Target may not have fully appreciated was that the Canadian discount sector is a particularly tough market," Dahlhoff noted. "Unlike the luxury segment, the discount market is fairly saturated by competitors such as Walmart, Costco, Giant Tiger, and Sears."
Ross Moore, director of research—Canada for CBRE, says Walmart owns the bottom 40 percent of the market. "They didn't give it up to Target," he notes, adding that he doubts Walmart will be standing in line for any of Target's shuttered stores. "They've had 20 years in this market to create the footprint they want."
New retailers think twice about Canada
Moore says Target's exit is more about the retailer's failed execution than the Canadian retail market. "The retail environment is a little tougher than it was 10 years ago, but retail sales are still positive," he explains.
Last year, Canada posted national retail sales growth of more than 4 percent, according to Colliers Canada. Canada's "Big Four" (Ontario, Quebec, Alberta and BC in order of magnitude) generated a combined $275.46 billion in retail sales net of auto and gasoline, accounting for nearly 86 percent of the national total.
While Canada's current retail environment may not have caused Target's demise, Crombie expects the retailer's woes to make other foreign retailers think twice about expanding in Canada. "I think Target's exit will create a pause," he says. "Though the stats show that foreign brands in Canada have upwards of 90 percent success, Target is very high profile, and it will cause retailers to second guess whether Canada is the right market for them."