Regional mall REITs are under constant pressure from investors to grow earnings. In the past, these companies have focused on development and mergers and acquisitions to generate growth. Today, however, they're relying on their existing assets to provide the growth they need to satisfy investors.
"The majority of the growth is going to be organic from rental increases, followed by redevelopment of existing properties," says Rich Moore, a REIT analyst with RBC Capital Markets, adding that ground-up development, mall acquisitions and M&As aren't viable growth vehicles.
Indeed, ground-up development opportunities remain limited, given the amount of land, money and time required to build a regional mall, points out Alexander Goldfarb, an analyst with Sandler O'Neill + Partners, L.P. And that doesn't even take into account the limited demand for department store anchors.
Mall acquisitions, meanwhile, aren't a strong vehicle for growth for REITs that focus on trophy assets, though there are some opportunities for those that are interested in class-B assets. CBL & Associates, for example, recently acquired Mayfaire Town Center and Mayfaire Community Center at Wilmington, N.C.
REITs already own most of the class-A, or fortress, malls.
"There are very few quality malls that remain in private hands, and those that do are primarily owned by families and companies that don't want to let go of them," Goldfarb notes.
And despite Simon Property Group's repeated and relentless efforts to absorb other REITs with similar assets, including Taubman Centers Inc., Macerich Co. and General Growth Properties, industry experts don't anticipate any M&A activity in the regional mall REIT space.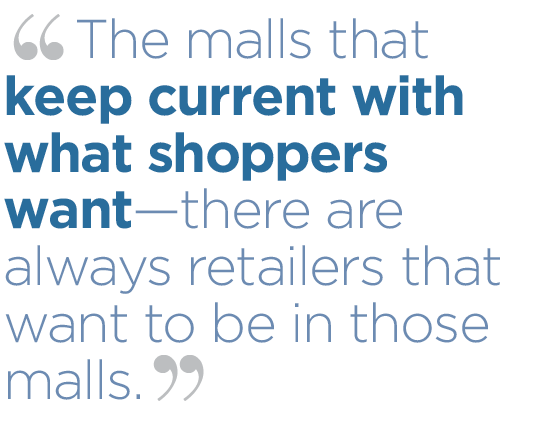 "For there to be a deal, you have to have a willing seller, and none of them are willing," Goldfarb says.
Instead, some have looked at other ways to capitalize on their portfolios. For example, Macerich Company announced yesterday it has reached agreement to form joint ventures to which Macerich will contribute interests in eight assets with expected cash proceeds to Macerich totaling $2.3 billion. GIC will have a 40 percent interest in five assets and Heitman will have a 49 percent interest in three assets. The transactions are subject to usual and customary closing conditions and are expected to close in phases starting in October 2015 and concluding in the first quarter of 2016. 
Concurrent with or prior to the joint venture closings, the Macerich is planning to put financing on South Plains Mall and Twenty Ninth Street center and will refinance the debt on Washington Square, Los Cerritos Center and Arrowhead Towne Center. 
The REITs that have rejected Simon's overtures have all said the same thing: their management teams feel they can provide the best return to shareholders. While that may be true, that's not the only reason why they've spurned Simon. Ego and family pride is certainly part of it, experts agree, but the primary reason is far simpler—these management teams will either be stripped of their authority or lose their jobs if they are acquired.
"People are very proud of their platforms, and unless a management team is willing to hang it up, there's no reason to engage," Goldfarb says.
Achieving NOI growth
The amount of organic growth that regional mall REITs can generate is a source of continual debate. The doubt is rooted in retailer demand—how many retailers want space mall space and how much are they willing to pay for it?
"It's eye-popping to think about the names that populated the malls in the '80s—they aren't around anymore, but those malls are," Goldfarb says. "The malls that keep current with what shoppers want—there are always retailers that want to be in those malls."
And that's why regional mall REITs continue to increase their same-center NOI. Of course, the amount of same-center NOI is determined by the quality of the mall portfolio.
Most Wall Street analysts divide regional mall REITs into two categories—those that own class-A malls in major markets and those that don't. Currently, REITs that own class-A malls are achieving an average same-center NOI growth of almost 5 percent, according to Moore. With leverage, that translates into earnings of roughly 7 percent.
"That's a pretty respectable growth rate from just what you own," Moore says.
Simon, for example, reported an increase in same-center NOI of 3.6 percent for the second quarter. That increase is in addition to the 5.6 percent increase the company achieved during the second quarter of 2014.
Likewise, Macerich generated an increase in same-center NOI of 7.5 percent during the second quarter compared to the same period last year. The REIT attributed the increase to increased occupancy, double-digit re-leasing spreads, annual rate increases and an "aggressive operating cost management program"
put into place this year.
Robert Perlmutter, executive vice president of leasing for Macerich, said during its second quarter earnings call that demand from retailers for the company's mall locations and outlet venues continues to be positive.
"We see retailers seeking to tie in multi-channel retail opportunities and further establish their brand identity," he added. "In addition, we see emerging brand and foreign retailers entering the U.S. through store locations, which are typically on the East and West Coast and that aligns with our portfolio."
Meanwhile, mall REITs that don't own class-A malls in major markets generate lower growth. Recently, they've posted same-center NOI in the 0 to 2 percent range.
Consider CBL & Associates. The Chattanooga, Tenn.-based REIT is maintaining its same-center NOI growth assumption of 0 to 2 percent after same-center NOI was flat for its mall portfolio during the second quarter. As compared with the prior year-end, the REIT expects occupancy to end the year 150 basis points to 200 basis points lower, between 92.5 percent and 93.5 percent.
"Same-center NOI growth continues to be moderated by the impact of bankruptcy-related store closures," said Farzana Mitchell, CBL's executive vice president and CFO. "In order to reach the higher end of our NOI guidance range, we would need healthy improvements in percentage rent and additional temporary income, as well as further savings in operating expenses."
Redevelopment rules
Regional mall REITs have suffered the bulk of recent retailer bankruptcies and closings, particularly those related to department store brands. However, most of these companies are looking at these bankruptcies as opportunities to bring new tenants to their centers or embark upon larger redevelopment projects.
For example, CBL redeveloped a dark Sears box in Cool Springs Galleria into Nashville's first American Girl store, and at Regency Square in Racine, Wis., it has started construction on a new Dunham's Sporting Goods in a former Sears location.
Redevelopment isn't a new strategy, Goldfarb notes, but it has gained in prominence as ground-up opportunities have become harder to find.
"The nice thing about redevelopment is that you know what you have… you know what kind of retailer demand and consumer demand you already have," Moore says, adding that redevelopment is "a very lucrative undertaking."
Experts say redevelopment generates returns ranging from 8 to 12 percent. It encompasses everything, from expanding and renovating an existing center to densifying an existing property by adding new space, often square feet dedicated to non-retail uses. Macerich, for example, is adding an office tower, hotel and residential building to its Tyson's Corner Center in Northern Virginia.
Meanwhile, Simon has the biggest redevelopment pipeline of all the regional mall REITs. The Indianapolis-based company expects its redevelopment investment to be at least $1 billion annually through 2017, according to comments made by David Simon, chairman and CEO of Simon, during the REIT's second quarter earnings call.
Currently, Simon is actively redeveloping 28 properties for a total spend of $1.7 billion. Construction continues on some iconic properties, including Roosevelt Field in Garden City, N.Y., The Galleria in Houston, Stanford Shopping Center in Palo Alto, Calif. and King of Prussia in Pennsylvania.
"We don't see any big deals on the horizon for us," Simon said. "So we are obviously very focused on… redevelopment."