November marked this year's new high for planned store openings in the U.S., according to the "National Retailer Demand Monthly" report from RBC Capital Markets. Retailers in the firm's database indicated they will open 77,547 new locations over the following 24 months—an increase of 0.7 percent compared to the figures projected at year-end 2013.
About 40,298 of those stores should open in the next 12 months, an increase in store opening plans of 1.2 percent compared to year-end 2013. While an uptick in new store openings is always a good thing, the timing is particularly fortuitous as the forecast looks more and more ominous for Sears Holdings, a long-term anchor at many malls. As the company is expected to put more Sears and Kmart stores up for lease, at least there should be retailers to take over those spaces, notes Rich Moore, a REIT analyst with RBC Capital Markets and one of the authors of the report.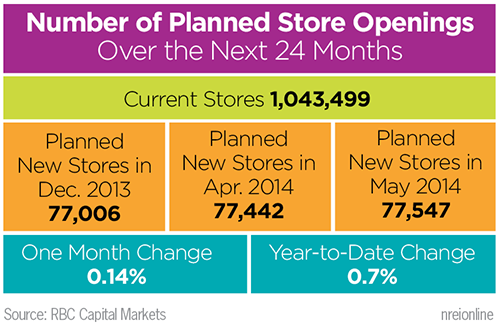 "Already, the talk of international retailers such as Primark and Topshop taking space in regional malls has accelerated, while the likes of Dick's Sporting Goods and Uniqlo are also looking for space," writes Moore. "This month, we highlight the strength of the home furnishings and hardware store sectors, which saw a recent uptick in both sales and planned openings… In addition, both the current and future expectation indices for restaurants hit new highs in the latest readings."
The retail sector that will likely see the greatest jump in new store openings over the next 24 months will be men's apparel, with 373 new stores in the pipeline, representing an increase of 3 percent. Lingerie sellers also have ambitious expansion plans, with 76 new stores planned, or a 2.9 percent increase in planned openings. Dry cleaning businesses and restaurants round out the list, with 142 and 7,262 new locations respectively. That translates into a store opening increase of 1.4 percent each.
At the same time, apparel retailers specializing in active wear have pulled back the most on future store openings, scrapping plans for 120 new locations, representing a decrease of 4.2 percent  
RBC Capital Markets tracks more than 2,000 retail chains.