After a tsunami of store closing announcements during the first half of the year, experts forecast that the remainder of 2015 will be relatively quiet as retailers focus on getting through the holiday season. However, retailers will continue to shutter stores throughout the year as leases expire.
"In the past, when retailers made store closing announcements, they bought out leases and closed the stores without delay," says Mark Dufton, CEO of DJM Real Estate, a Gordon Brothers Group Co. "Today, they're making announcements well in advance of the actual closings, and they're closing the stores when the leases expire."
Dufton says landlords are less interested in lease buyouts. "They don't want to take the space back, especially in [class]-B and -C malls," he notes, adding that landlords have made it too expensive for retailers to buy out leases.
Retail tenants, for their part, can no longer justify the cost buying out a lease when they do an ROI analysis. "Tenants are only going to buy out a lease if it makes financial sense, and it rarely makes sense now," Dufton contends.
Waiting for a lease to expire to close a store represents a dramatic shift from the way store closures have traditionally occurred, Dufton says. "It's not an overnight liquidation any longer. The closures are happening over several years," he notes.  
More shuttered stores, but less vacant space
The most recent store closing data available reports that retailers and restaurateurs announced closings of more than 3,500 establishments totaling an estimated 19.9 million square feet, according to the U.S. Retail Real Estate Supply Conditions report from ICSC Research and PNC Real Estate Research. The planned 1,784 store closures announced after Radio Shack's February Chapter 11 bankruptcy filing represented half of the total first-quarter tally.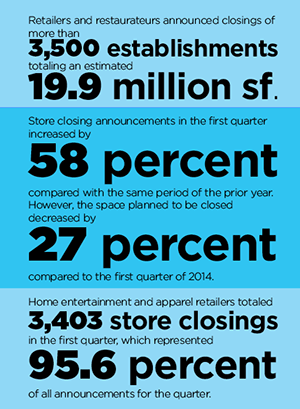 The number of store closing announcements in the first quarter 2015 increased by 58 percent compared with the same period of the prior year. However, the space planned to be closed decreased by 27 percent compared to the first quarter of 2014.
Space associated with these stores represent 0.1 percent of the total inventory of retail space within the United States, according to ICSC and PNC's research. Home entertainment and apparel retailers totaled 3,403 store closings in the first quarter, which represented 95.6 percent of all announcements for the quarter.
Wet Seal accounted for the biggest piece of the closure pie with plans to shutter 338 of its U.S. stores. In addition, Deb Shops, Body Central, Cache, Jones NY, The Children's Place, Chico's, and Izod announced plans to close more than 100 stores.
During the first quarter, department store operators JC Penney (40) and Macy's (14) also announced locations that will close. In addition, grocery chain Fresh & Easy announced it plans to close 50 stores.
Time to prune
Al Williams, principal of Excess Space Retail Services Inc., says the number of store closure announcements has been in line with his expectations, except for the news regarding the McDonald's closures.
During the first quarter, the fast-food chain shuttered 350 poorly performing stores in Japan, the U.S., and China. Those closings weren't announced in advance, and are in addition to the 350 stores McDonald's had already targeted for closure. From a big picture perspective, 700 stores represent a tiny fraction of the 32,500 restaurants the company and its franchisees operate worldwide.
Williams says McDonald's store closings aren't an indication that the quick-serve restaurant business is in trouble. Rather, the decision is further proof that retailers are working hard to prune their store portfolio.   
While many of the store closing announcements have come from troubled retailers, just as many have come from healthy retailers, he notes. "I think it goes beyond retailer economics," he explains. "I think many of the closures are a result of shifting demographics in certain trade areas and a change in the way consumers, especially Millennials, are shopping."
Williams expected retailers to focus their energy this year on cleaning up their store footprint. "Finally, they're dealing with underperforming or non-strategic locations that they continued to operate during the recession because they weren't growing and because landlords were extremely flexible and made it easy for them to stay open," he says. "The average retailer is getting smarter, and more often than not, that means a change the number of stores."