JP Morgan Chase's announcement that it plans to shutter roughly 300 branches by the end of 2016 was enough to make the commercial real estate world sit up and take notice. The nation's largest bank is looking to cut costs and optimize its branch network, and the branch closures represent roughly 5 percent of its overall footprint. It plans to change how it services its retail customers by emphasizing mobile banking and more tech-savvy automated teller machines.
Industry experts say that JP Morgan Chase's strategy illustrates a larger trend within the banking industry: a greater focus on branch efficiency and technology. From a real estate perspective, that means thousands of shuttered branches. However, these experts are quick to say that physical locations continue to be an important part of a bank's strategy, so they aren't going away … they're just changing. 
In fact, FDIC recently released a report titled "Brick-and-Mortar Banking Remains Prevalent in an Increasingly Virtual World." According to the report, some 6,669 banks and thrifts continued to operate 94,725 bricks-and-mortar offices, "providing testament to the enduring value of physical access to banking services in an increasingly virtual banking world."
"There is little question that branches remain important in the minds of U.S. consumers today," says Mike Goodson, a managing director and head of management consulting for Accenture's North America banking practice. "They are cited as the number one reason for loyalty, and eight out of 10 consumers see themselves using branches as often or more often in five years' time. But this is changing quickly, as profitability pressures motivate banks to promote less costly and more convenient ways of banking to customers. The rapid rise of mobile banking illustrates how quickly customer behaviors can change through digital technologies."
Record years for closures
Banks are important retail tenants in shopping centers and freestanding locations, and they're one of the most attractive net lease investments because of the tenant credit quality. The top 25 U.S. banks spend more than $50 billion a year maintaining more than 43,000 branches, where approximately 60 percent of all products are sold, according to Accenture. Opening a new branch costs an average of more than $2 million.
In 2014, a record number of branches closed—roughly 1.5 percent of the overall total, according to Leon Majors, president of the payment systems practice for Phoenix Marketing International, a Rhinebeck, N.Y.–based research firm.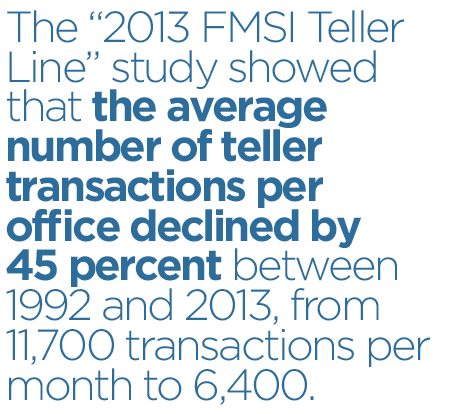 "Last year's closures were a continuation of a trend," Majors notes. "For the past several years, since the Great Recession, we've seen net closures outpace branch openings."
The onset of the 2008 financial crisis brought about an increase in bank failures, with more than 100 failures on average each year between 2008 and 2012, according to the FDIC. Its "Summary of Deposits" survey revealed that banks have opened more than 11,000 branches since 2008 and closed 15,500 offices.
Since 2008, just 15 institu­tions have accounted for one-third of all gross office closings, according to the FDIC. These 15 institutions include some of the nation's largest banks, as well as large regional banks, two of which—Washington Mutual and Wachovia— failed or were forced to merge during the crisis.
Michael J. Purchia, managing director of the financial institutions group for Paramount Partners LLC, says the country's largest banks are under a lot of pressure from the Federal Reserve to shrink their balance sheets and simplify their operations in order to strengthen their capital position.
Changing demographics and the increased popularity of online and mobile banking also are compelling banks to reconsider their physical footprint. Phoenix's recently released "Banking Channel Optimization" report revealed strong digital channel penetration in the marketplace.
Of 107 million households, nine out of 10 now use online banking and four out of 10 use mobile banking. In addition, six out of 10 banking transactions are now conducted through digital channels, up 15 percent in less than five years.  
Even more telling: the "2013 FMSI Teller Line" study showed that the average number of teller transactions per office declined by 45 percent between 1992 and 2013, from 11,700 transactions per month to 6,400.
"Most banks with 100 or more branches should think seriously about closing 10 percent of their worst performing branches and replacing some of them with branches in more attractive markets," Purchia contends, adding that many banks have grown through acquisition and have many white elephant legacy branches—former HQ branches or old, large and inefficient branches. "Those branches are getting closed. The trade area for many markets has also changed in the last 10 to 15 years [due to] new consumer shopping patterns. Banks are looking to relocate to more attractive trade areas."
Reimagining branches
Accenture's "Banking 2016: Next Generation Banking" report claims that current branch-based distribution models are "no longer sustainable in most developed countries and are unable to meet the rapidly evolving customer needs and requests for easy access and simplicity across their banking services."
The consulting firm proposes a lighter, more diverse branch banking model to maintain sales, while better enabling digital banking. The model includes "light" branches—highly automated with a small staff and real estate footprint focused on sales and providing access to remote advisory specialist, along with kiosks, full-service hubs and flagship branches to act as centers of sales and service-excellence that promote the bank's brand and introduce new offerings and self-service tools.
"Branches remain vital to banks, but they need to be reimagined as one aspect of a radically new approach to consumers," Goodson says.
Augusto Medelius, vice president of global channels at Phoenix, agrees. "Digital channels do well in those basic, automatable transactions such as checking your account balance or paying that monthly utility bill—that's the efficiency part. Sales and relationship management carry unique complex nuances that can't be automated—three out of four accounts are opened at the branch and nine out of 10 customer issues are solved at the branch or via a phone discussion."
To that end, many banks still plan to expand their branch networks. "They're keeping branches to make it easy to interact with customers, but they're working to make them as efficient as they can be," Medelius says. "We see radical overhaul of branches over the next five to 10 years."
Neither Majors nor Medelius have a clear picture of how banks will overhaul their branches. "At this point, we don't know if they're going to close them, renovate their existing space to reduce the square footage and bring in a tenant for the vacant space, or just build new ones," Majors says. "It's probably going to be a combination of all three."
For those owners and landlords who have to deal with a shuttered bank branch, Purchia suggests pursuing medical and dental uses. Additionally, he advises owners to broaden their universe of financial tenants.
"Historically, developers and property owners have always sought out the top three or four banks in their market as tenants," Purchia notes. "They didn't even know community banks or credit unions existed. Property owners should expand their marketing efforts to community banks and credit unions. These financial institutions are good credits and actively looking to, in contrast to the current attitude of the country's largest banks. They feel they can effectively compete against big banks."