Armstrong Ventures 2 LLC appointed The Shopping Center Group as the exclusive leasing agent for Glensford Way, a planned 183,000-sq.-ft. shopping center in Cumberland County, N.C.
Armstrong Ventures 2 plans to complete the development by spring 2014. BJ's Wholesale Club will anchor the center, along with two junior anchors.
"The Cumberland County market is one of the fastest growing counties in the Carolinas," said Drew Logan, leasing agent with The Shopping Center Group, in a statement. "Not only is this retail node home to Cross Creek Mall with sales in excess of $500 per square foot, but it also serves the 50,000 to 70,000 military men and women stationed at Fort Bragg and the 82nd Airborne."
Laguna Hills' Oakbrook Village to Become a Mixed-Use Center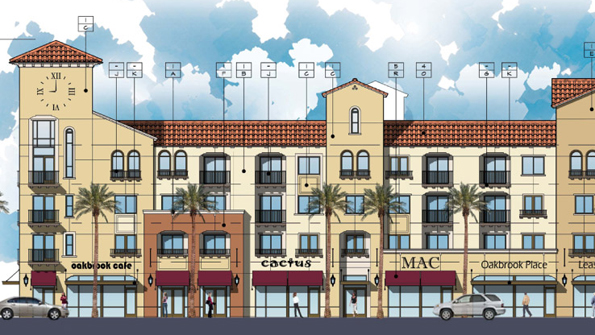 Fritz Duda Co. will redevelop Oakbrook Village, a shopping center in Laguna Hills, Calif. built in the 1980s. The city of Laguna Hills recently approved an entitlement package for Nadel Architects to redesign the property into a high-end mixed-use center.
The $80 million to $90 million project will include 132,200 sq. ft. of retail space and a 483,837-sq.-ft. multifamily building. Nadel Architects will demolish the old retail property, renovate the exterior of the remaining portion and create new space for additional restaurant and retail pads. The redesigned center will incorporate plazas, fountains and community gathering spaces. Completion is scheduled for 2016.
Aldi Takes Over Former Best Buy Space
Aldi signed a lease with 3773 Investments & VOP Associates for a 28,048-sq.-ft. store at 1038 N. Rohlwing Road in Addison, Ill. The spec was formerly occupied by Best Buy. Craig Lillibridge, of CBRE, represented Aldi in the transaction. CBRE's Joe Parrott represented the landlord.
Other Notable News
Ross Dress for Less signed a 24,395-sq.-ft. lease with TriStone Realty Management LLC for a store at Butterfield Plaza in Downers Grove, Ill. Joe Parrott, of CBRE, represented the landlord in the transaction.
Cooper's Hawk Winery & Restaurants signed a lease with Forest City Enterprises for an 11,500-sq.-ft. space at Short Pump Town Center in Richmond, Va. Zach Means and Larry Agnew, of Divaris Real Estate, negotiated this transaction.
The Macy's store at Ohio Valley Mall in St. Clairsville, Ohio will undergo a renovation. The project will include new flooring, wall treatments, a paint job and accent lighting. Completion is scheduled for the holiday season.
FRCH Design Worldwide hired Chad Kohler as senior architect in its retail and mixed-use studio and Jessica Rieveschl as senior project coordinator. Prior to joining FRCH Design, Kohler worked at Burgess and Niple. Rieveschl previously worked as a freelancer for FRCH's hospitality design studio. She has 15 years of experience in healthcare design and higher education architecture.