Amazon.com used to be the kind of retailer that could sell consumers anything. As an online retailer it had everything. Everything, that is, except comp store sales.
But now all of that is changing. The e-commerce company that once stirred fear, anxiety and even anger among bookstore owners is getting into the business that it played a role in reshaping, and continues to influence. After opening a store at University Village in Seattle, the company plans to open two more bricks-and-mortar locations, at the Westfield UTC mall in San Diego and at Washington Square in Portland, Ore., according to Deborah Bass, a spokesperson for the company.
Now word has it that the New York retail real estate market is getting ready to welcome an Amazon Books to The Shops and Restaurants at Hudson Yards, a 28-acre district being developed just off the shores of the Hudson River. Bass declined to comment on reported plans for the Manhattan store, but real estate professionals who know the market are already looking forward to the addition.
"They have planned a major concept, and they are all about the consumer experience," says Faith Hope Consolo, chairman of the retail leasing, marketing and sales division at Douglas Elliman Real Estate. "This is New York, the shopping capital of the world. This will put them with the tourists, the residents and it has a much bigger reach."
It turns out that reach will be digital, as well as physical. Amazon Books stores integrate the benefits of bricks-and-mortar and online shopping, and the company is basing its merchandising strategy on data culled from online sales. Books in the physical stores are stocked based on titles that have garnered the best sales, popularity on Goodreads, high customer ratings and many pre-orders, according to the company's website. Customers will also be able to sample Amazon.com's electronic devices, including the Kindle, Echo, Fire TV and Fire Tablet. The devices are the top-selling products on the retailer's website, Jeff Bezos, founder and CEO, said in a statement.
"They could have gone anywhere," Consolo says. She adds that San Francisco would have been closer and easier, and other markets, such as Chicago, would have been just as viable for the next store outside of the West Coast. Choosing New York City, and opting to lease space inside the Hudson Yards project in particular, indicates that Amazon.com sees the project as a platform for its national store strategy, she notes.
That strategy sounds like it will position Amazon Books locations to be a major traffic generator for physical shopping centers. The shopping center business is welcoming that kind of presence, especially as traditional department store anchors continue to show signs of strain under the current economy and the new retail paradigm.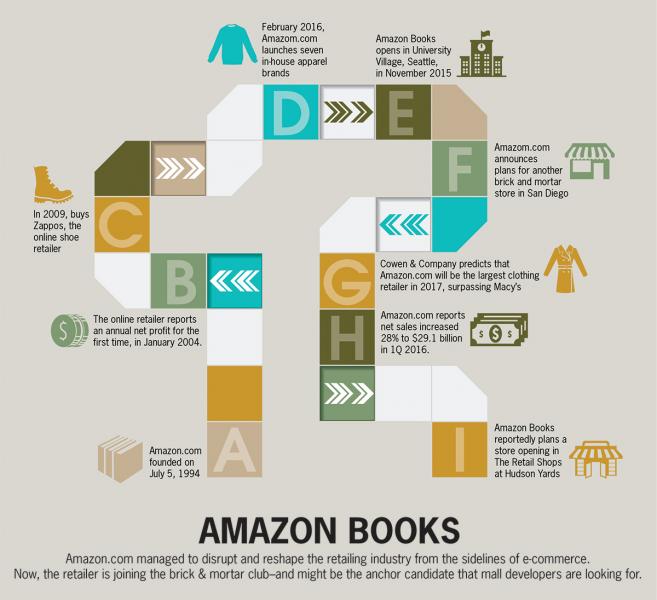 Amazon books an unlikely holiday tenant
Right now, the Hudson Yards project is an ambitious urban development plan for Manhattan's West Side. Plans call for the creation of more than 17 million sq. ft. of occupied office, residential, restaurant and retail space. Plans also call for a school, open park space and a regional mass transit hub.
But Hudson Yards' village within a city is not the only basis of excitement for the new bookstore. Much ado about a national store rollout began in February, when General Growth Properties CEO Sandeep Mathrani said that the company might open 300 to 400 bricks-and-mortar locations. The Chicago-based REIT later issued a statement noting that Mathrani's comment did not reflect Amazon.com's plans, but the market's interest has already been kindled.
As it turns out, Amazon.com appears to have already given landlords and real estate a solid foundation for their optimism. In its first quarter earnings report, the company said the Fire TV Stick, its streaming media player, became the first product to surpass 100,000 customer reviews, including more than 62,000 five-star reviews.
Not only are consumers engaged and pushing net sales up, but also the company attained operating cash flow of $11.3 billion for the trailing 12 months ended on March 31. That is an increase of 44 percent from the same period in 2015. But it is also an indication that Amazon.com has the product excitement, sales and funding to support a national rollout of stores, if that is the company's ultimate plan.
Amazon.com might have upended retailing with its online strategy, but the industry has adapted since 1994, when it first launched.
"I don't think they are to be feared, but embraced," Consolo says. "This store strategy reinforces their presence."