Judging by recent events, turning down rival Simon Property Group's buyout offer last year was the right move for Macerich Co.
Last spring, Macerich walked away from a $16.8 billion buyout bid from Simon, saying that the offer undervalued the company and its growth prospects. Instead, the Santa Monica, Calif.-based REIT sharpened its focus on its core business.
Then in the fourth quarter of 2015, at least six institutional investors bought higher stakes in the company, according to a report in MicroCap Magazine. The investors ranged from the Employees Retirement Association of Colorado, which boosted its shares by 0.1 percent, to British Columbia Investment Management Corp., which increased its share in the mall developer by 21.7 percent.
Does the surge in interest in Macerich's stock mean the company might be the target of a buyout plan once again? Industry observers shied away from speculating about whether another buyout offer is in development. They believe the actual reason for investors' increased attraction is that REITs' can offer both growth and yield, which are both desirable benefits in the current investing environment.
Making the A-Grade in mall development
"REITs have done well in the past 30 days, and have outperformed the S&P 500," says Alex Goldfarb, a managing director and senior REIT analyst at Sandler O'Neill + Partners. "It makes a case for why you see money coming into real estate. If you have investors looking at investing in class-A malls, there are only four REITs that specialize in that."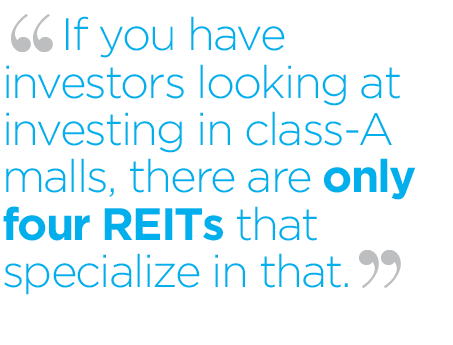 Macerich's recent plays in the class-A mall space include purchasing the Country Club Plaza in Kansas City, for $660 million, in a joint venture with Taubman Centers. The property has 804,000 sq. ft. of retail space and 468,000 sq. ft. of office space.
"It is a large shopping center in need of some TLC," Goldfarb says. "Macerich is trying to get back into developing its own portfolio and show value."
In addition, Macerich created an agreement with PREIT to redevelop and rebrand The Gallery, a 1.4-million-sq.-ft. property in Philadelphia. Their vision is to turn the asset into a transit-oriented, mixed-use center with "accessible luxury" retailers and "artisan food experiences."
The company is also managing its balance sheet to make the most of its financial success.
Last November, it began a $1.2 billion share buyback program, and has bought the equivalent of $800 million in shares, leaving room to do $400 million more, Thomas E. O'Hern, Macerich's senior executive vice president, CFO and treasurer, said at the Citi Global Property CEO Conference in New York this March.
The share buyback program might help Macerich manage its stock price, but what about the debt side of its balance sheet? When it comes to securing financing, the company prefers to work more with life companies. At the moment, those lenders offer financing that is between 100 and 120 basis points tighter than the rates Macerich could secure from the volatile CMBS market.