The July report from RBC Capital Markets shows that even as chain retailers continue to increase the number of stores they plan to open in the next 12 to 24 months, the retail industry still faces some challenges.
The most recent issue of "National Retailer Demand Monthly" reports that the retailers in RBC's database increased their store opening plans for the coming year by 0.6 percent during the past month, to 42,213 locations. Their two-year store opening plans rose by 0.4 percent to 79,294 locations.
At the same time, there were two major bankruptcy announcements in the past few weeks: by Anna's Linens and A&P. Together, the two chains operate 564 locations. A&P plans to sell 120 of its 296 stores, but "the remaining A&P stores could encounter re-tenanting challenges as the unionized stores may present obstacles to a new operator," writes RBC REIT analyst Rich Moore.
All in all, Moore notes, "We expect that the increasingly competitive retail environment will lead to further bankruptcies, which is likely to push bad debt expense back to historical norms. Although bankruptcies may be disruptive in the short run, high quality retail space is limited, and retailer demand for vacancies due to bankruptcy appears solid as evidenced by the climbing number of planned store openings."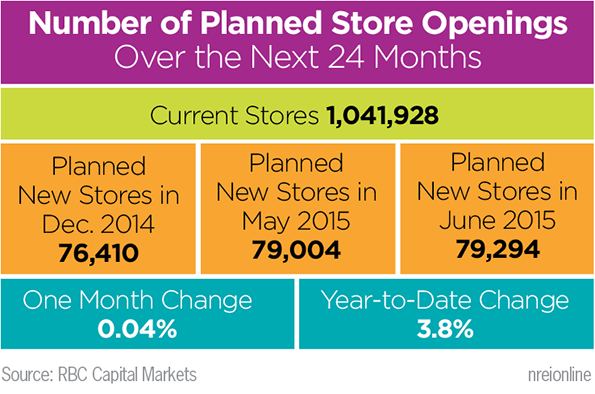 A detailed picture
Among the retail chains that plan to open the greatest number of stores over the next 24 months are not only the usual suspects (fast food restaurant operators and dollar stores), but cosmetics sellers Sephora (100 new stores) and Merle Norman Cosmetics (300 new stores), as well as furniture chain Aaron's (300 new stores).
Bed, Bath & Beyond is among the retailers that plan to grow the most as a percentage of their existing store base, with 140 new locations in the next two years, or growth of 140 percent, as is Urban Outfitters, with 120 planned new locations or growth of 100 percent.
Overall, the sectors that appear to be in expansion mode include crafts retailers, specialty apparel sellers and salons/spas.
Toy store and book store chains are among the sectors that are pulling back on new store openings.