The seniors housing and care market is sizeable and growing. Defined as skilled nursing, independent living, assisted living and memory care units, the sector provides both housing and an array of services to seniors, generally over the age of 75. In 2014, it was estimated to be valued at $330 billion, comprising 22,700 investment-grade seniors housing and care properties containing 2.9 million units.
Revolutionary? Or evolutionary?
Until recently, the distinction between care types—assisted living, independent living and skilled nursing--was clearly defined, but as a result of the recession and the ongoing changes in health care provision, the traditional definition of care types has started to blur. Indeed, during the recession, residents in independent living properties brought a la carte care services into their properties, often duplicating the services offered at an assisted living property (assistance with bathing, grooming, dressing, eating and medication management, or activities of daily living (ADLs). Separately, as part of the Affordable Care Act and the revolutionary changes that are underway in Medicare's payments to providers, operators of seniors housing and care properties are considering where they fit into the spectrum of services offered for their residents, as well as for hospital patients in their recovery processes.
Alternative payment plans, such as accountable care organizations (ACOs) and pay for performance programs, are quickly displacing fee-for-service payment plans in both Medicare and private health plans. As this occurs, there will be a growing opportunity for post-acute care collaboration between hospitals and operators of seniors housing and care properties. And the opportunity is coming quickly: by 2018, alternative payment plans will account for 50 percent of Medicare payments, up from 20 percent in 2015. Among the most significant factors driving this collaboration are costs, since the daily fees associated with a stay in a hospital room can easily dwarf that of skilled nursing or assisted living facilities.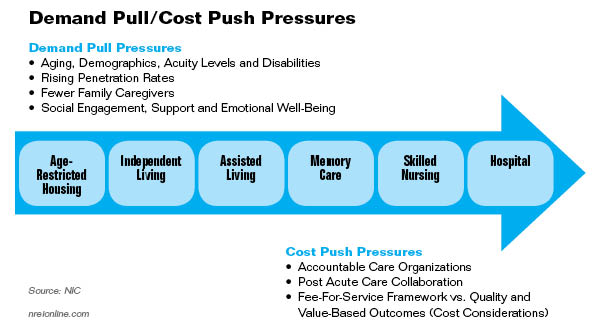 Residents? Patients? Guests?
As a result of these trends, operators of seniors housing properties are evaluating their service offerings and considering whether or not they want to offer their residents full medical care (skilled nursing, rehab therapy and chronic care) or simply hospitality (meals, transportation, housekeeping, entertainment and concierge services) and activities of daily living. Some operators are opting to remain solely hospitality-oriented, while others are quickly moving toward a high acuity medical model. Many operators are pro-actively developing partnerships with hospitals and physician practices to provide more integrated services in order to ensure better healthcare outcomes and help reduce overall costs. As this occurs, data systems that can track performance and outcomes will become increasingly important.
Going forward, the "cost-push pressures" associated with the restructuring of Medicare payments and the Affordable Care Act will complement "demand-pull factors," making seniors housing and care a  particularly sweet spot for investors seeking solid returns and strong fundamentals. 
Baby boomer boon or caregiver bust?
Foremost among demand-pull factors are compelling demographics, exemplified by a significant and sharp change in the caregiver support ratio. The AARP estimates that the ratio of caregivers aged 45 to 64 relative to the population of 80 years of age and older will fall from 7:1 in 2010 to 4:1 in 2030 and to less than 3:1 in 2050. This will occur for a few reasons, one of which is simply the baby boomers' shifting from today's caregivers to tomorrow's elderly. In addition, fertility rates are declining, with a diminishing number of children being born per woman. Today's 80-year-old women had three or more children, while women who are currently of child-bearing age have 2.0 or fewer children, on average.
These demand-pull and cost-push pressures should provide a strong secular foundation for long-term demand fundamentals. Other shorter-term factors affecting market fundamentals include cyclical trends, such as broad macroeconomic conditions measured by metrics that include the jobless rate, employment growth, consumer confidence and the velocity of residential home sales.
The pace of development and growth in inventory are the flip sides of demand and could and will be a threat to market fundamentals if and when supply outstrips demand. At this point, demand has outpaced new additions and occupancy rates have been generally rising since mid-2010. The exception was the first quarter, when occupancy rates slipped back for assisted living properties. Second quarter data will reveal if this was a one-time reversal or if it portends a shift in underlying market fundamentals.   
More to come?
In closing, I would like to thank you for taking the time to read this column. I welcome your feedback and thoughts.In the coming months, this column will explore these and other topics related to seniors housing, including market fundamentals, macroeconomic trends, capital market conditions and return performance. My hope is to provide an objective view on the investment characteristics of the seniors housing and care sector, reviewing both its opportunities and its challenges.