Student housing has become one of the more visible manifestations of youthful entitlement. Developers, designers and contractors regularly describe their newer student housing projects as "resort-like," with elaborate, if not arguably over-the-top, amenities that colleges and universities use as recruitment tools.
Eighty percent of the student housing that Dallas-based Humphreys & Partners Architects works on is off campus, "and it's like night and day compared to what we were doing 20 years ago," says Greg Faulkner, the firm's president. These projects can include "crazy size" pools (especially in the South), golf simulation machines, rock-climbing walls and fitness centers/clubhouses as large as 12,000 sq. ft. "Wellness in general is a big deal for this generation," confirms Rohit Anand, a principal with the architectural and planning firm KTGY.
But Shangri-La has its drawbacks. The high level of amenities is playing into rent increases of 3 percent to 4 percent a year. Some industry insiders are concerned that parents who are freighting their kids' room and board will soon begin to push back at the rates.
Some market watchers also worry that with so many on-site features and services, off-campus student housing is becoming a cocoon, with residents rarely leaving their rooms or buildings and interacting with few other students.
A 2013 Multifamily Executive magazine poll of more than 7,000 college students found that dorm rooms or apartments were the primary study places for more than three-fifths of the students polled.
More common ground
Last November, Building Design+ Construction magazine reported on a symposium of 62 students from a dozen colleges in North Carolina. "We were surprised at how much time students are spending in housing facilities," said Thomas Carlson-Reddig, global practice leader for Little Diversified Architectural Consulting, which conducted the confab.
The concern is that highly-amenitized, off-campus student housing will lead to a certain degree of disengagement with the school and campus community. However, research sponsored by the National Multifamily Housing Council and conducted by InnesWorks Consulting counters those concerns.
The results of extensive interviews with 18 student focus groups at four major universities show that living off campus in purpose-built, private student housing appears to have little to no negative impact on students' academic engagement and performance (including grades), intent to graduate, level of participation in university clubs and activities, school loyalty or personal growth.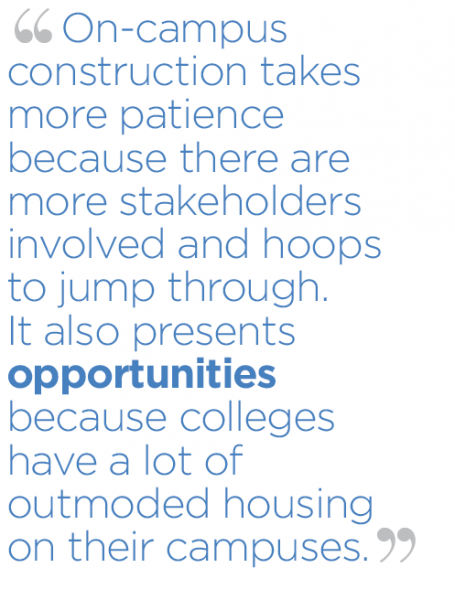 Regardless of these findings, figuring out ways to avoid isolation by getting students outside of their dorm rooms has become a goal for more colleges and housing developers. "Student living must provide options to congregate [because] today's students are expecting customizable space that allows them to shift between social and academic focus within the room," says Brian Watson, a designer with Gensler, a large architectural firm.
Colleges and their building team partners are giving more space over to common areas within dorms and apartment buildings to encourage social interaction and decompression. (They also are keeping an eye on design trends for K-12 schools, which make every space a learning area that foments collaboration and creative thinking.)
Expanding the common areas in college student housing, though, has meant that apartments and dorm rooms are getting smaller. While student preference remains for two-bedroom, two-bathroom living, architects and contractors say that four-bed, four-bath apartments are becoming the norm. Not only are quads more efficient to develop, but they also represent higher gross potential rent. (Faulkner says that many of his firm's projects fetch between $800 and $1,000 per student per month.)
A meeting of the minds
This desire to stimulate organic student interaction and strengthen students' connection to their school communities has some schools encouraging students to spend more time living on campus.
Ohio State University, for example, has committed to spending $400 million to support its mandate that all students live on campus through their sophomore years. Faulkner says that this university has more than 6,000 beds under construction or on the drawing board.
Jack Boarman, founder and senior partner with the Chicago-based architecture and engineering firm BKV Group, observes that while small and midsize private colleges still want to keep more of their students on campus, OSU is an outlier among larger universities, where student housing needs are often met by the private industry building off-campus housing.
On-campus construction "takes more patience," says Faulkner, because there are more stakeholders involved and hoops to jump through. It also presents opportunities because "colleges have a lot of outmoded housing on their campuses," he adds.
Public-private partnerships (P3s) have become popular because cash-strapped colleges are looking to build new or improve existing housing while mitigating their costs and risks. Partnering with private student housing providers on the development and/or management of those housing facilities can help them achieve those goals. And KTGY estimates that P3s account for 30 percent to 40 percent of new on-campus housing construction.