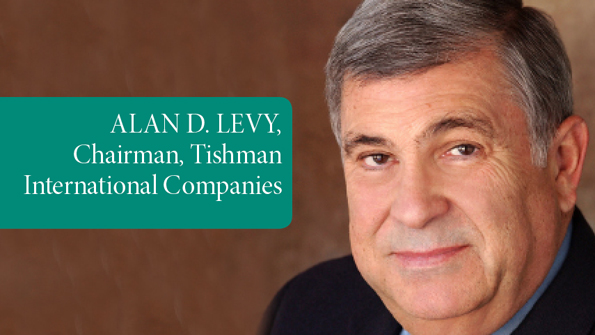 "Tishman International Companies has embraced sustainability as a guiding value for more than two decades. We educate our global clients about our philosophy of the green advantage: The high quality and sustainability of the built environment create a safe, healthy and comfortable workplace; improve employee health and performance; reduce the impact of a building on its surroundings; encourage tenant retention; enhance a project's marketability and add prestige to the client company's corporate image.Tishman Internationalactively promotessustainable developmentin its projects and operations and industry and professional activities in the United States, the United Kingdom, Bulgaria, Hungary, the Czech Republic, Slovakia and Romania. Our pioneering, mixed-use development in Bulgaria, the Sofia Airport Center, is home to that nation's first LEED-certified commercial office building."
—Alan D. Levy, Chairman, Tishman International Companies
Full Biography:
Alan D. Levy is chairman of Tishman International Companies, headquartered in Los Angeles, with offices in London, Vienna and Sofia, Bulgaria. Tishman has developed, built and managed more than 40 million sq. ft. of commercial real estate through its U.S. offices, and the firm's joint venture partners have included many of the world's prestigious financial institutions. Since 1985, Tishman's European headquarters in London has developed and managed over 4 million sq. ft. of commercial property in the United Kingdom and Ireland. In addition, the firm was involved in the development of shopping centers for a major European retailer in the Czech Republic. In 2004, Tishman commenced operations in South Eastern Europe and is currently developing the premier mixed-use development in Bulgaria–Sofia Airport Center–a €350 million project offering 1.8 million sq. ft. of offices and logistics space.
Levy is a graduate of Washington University's School of Real Estate and is a designated Certified Property Manager through the Institute of Real Estate Management. Additionally, Levy is licensed as a general contractor, insurance broker and real estate broker in the United States. He is a member of the board of trustees of Harvard-Westlake School; a member of the executive committee of the Board of Governors of Cedars-Sinai Medical Center; a trustee of the Archives of American Art of the Smithsonian Institution; a member of the board of councilors of the University of Southern California School of Social Work; a Bryant fellow of the Metropolitan Museum of Art; a former chairman of the American Art Council of the Los Angeles County Museum of Art; a member of the executive board of the West Los Angeles County Council, Boy Scouts of America; a lifetime member of the National Eagle Scout Association and a member of the Fraternity of Friends of the Los Angeles Music Center. Levy also serves as Honorary Consul of the Republic of Bulgaria, for Southern California.