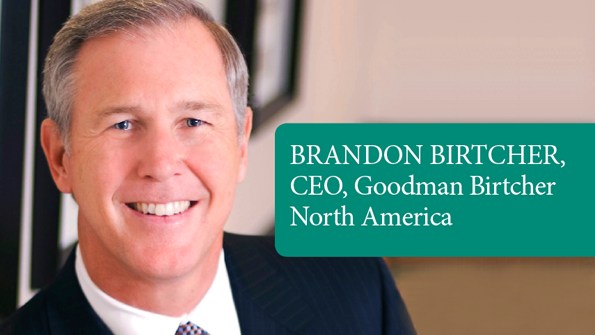 "I have believed in sustainable development for more than 30 years. In 1979, we were responsible for developing America's first solar-assisted business park in Laguna Niguel, Calif. Today, Goodman Birtcher is a leader in LEED-certified industrial building and has pioneered eco-friendly development strategies. We believe in partnering with the communities in which we develop our properties by delivering measurable value to the local economy and the environment."—Brandon Birtcher
Full Biography:
At Goodman Birtcher North America, CEO Brandon Birtcher is leading the corporate initiative to invest approximately $1.5 billion in the development of, and investment in, prime quality logistics and industrial facilities in key locations across North America. Currently, Goodman Birtcher has secured four development sites—two in California's Inland Empire, one in Oakland, Calif., and one in Lehigh Valley, Penn.—planned for approximately 9.8 million sq. ft. and a combined total completion value of more than $700 million.
Prior to merging with Goodman Group in June 2012, Birtcher was owner and CEO of Birtcher Development & Investments, a build-to-suit development company founded by his great-grandfather in 1939. Since its inception, the Company has acquired, managed or developed more than 60 million sq. ft. and 250 projects for some of America's leading firms totaling in excess of $5 billion dollars with capital from over 100 institutions.
Birtcher joined the family firm in 1976 after graduating in economics from Claremont Men's College. By 1979 he had conceived and developed America's first solar-assisted business park. From 1991 to 1994 he was responsiblefor opening company offices in Guadalajara and Mexico City, and built several significant projects in Mexico, including the Guadalajara Hyatt Regency and the Mexican headquarters for General Electric, Levis Strauss, Hughes, Bechtel and Allergan. In 1996, Birtcher Enterprises formed the first real estate venture between the U.S. and China to manage and develop properties in that country. Birtcher also holds one patent and several others pending that feature technologies that will revolutionize various aspects of the real estate industry.
Birtcher was the recipient of the Southern California Property Owner's Association's Developer of the Year award in 1987, and his firm was the NAIOP) Real Estate Developer of the Year in 1989. The firm was also named Orange County Business Journal's Family Business of the Year in 2000.