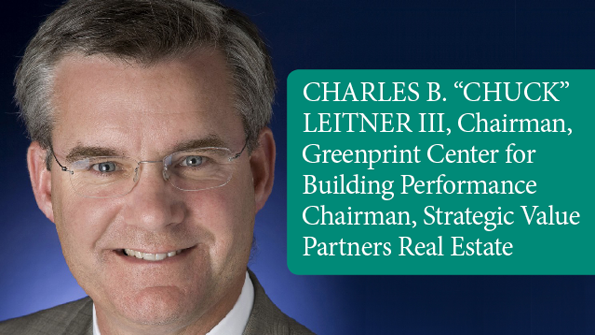 "At ULI Greenprint, our basic belief is, if you can't measure it, you can't manage it. Greenprint initially focused on identifying the 'what'—creating a quantifiable benchmark that helps the commercial real estate industry track performance and relating that performance to other more traditional financial metrics. Now we are focusing on the 'how'—once you can measure it, how do you prove building performance? We are growing in terms of data and we want more participation and more companies to join in and see the benefit of what we're doing for themselves, the industry and the environment."
—Charles B. "Chuck" Leitner III, Chairman, Greenprint Center for Building Performance Chairman, Strategic Value Partners Real Estate
Full Biography:
"Chuck" Leitner is chairman of the ULI Greenprint Center for Building Performance, a nonprofit organization created by a global alliance of leading real estate investors to spearhead the industry's drive to reduce greenhouse gas emissions while creating value in property portfolios.
Previously, Leitner served as chairman and global head of RREEF, the global real estate investment management business currently owned by Deutsche Bank. He joined RREEF in August 1988 after seven years of investment industry experience and became a partner in the firm in 1996. In 2001 he assumed overall responsibility for RREEF's U.S. real estate acquisition business. Deutsche Bank acquired RREEF in 2002, and in 2004 Leitner became the global head of RREEF. In that capacity, Leitner led the globalization of the real estate and infrastructure businesses of Deutsche Asset Management under the RREEF brand.
Prior to joining RREEF, Leitner was associated with TIAA and GE Capital in real estate finance. He has served as a director for several real estate entities, including Dexus, a listed property trust in Australia, and DB Real Estate Investment GmbH, a German-based manager of global real estate funds. He is a trustee of the Urban Land Institute and a member of the Board of Directors of the Pension Real Estate Association, the National Association of Industrial and Office Parks, and the Real Estate Roundtable. Leitner graduated from the University of Pennsylvania, where he currently serves as a trustee and as a member of the Athletic Board of Overseers.