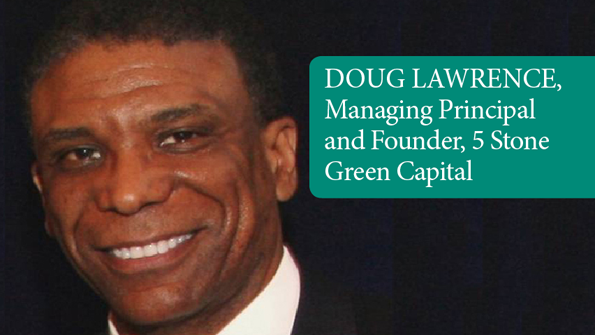 "We live in a world that has grown from 2.5 billion inhabitants in 1950 to more than 7 billion today, and our planet is expected to feed, water and house as many as 9 billion people by 2050. In 1950, we thought the world could produce unlimited fossil fuel resources. But we were wrong. Today, we know that fossil fuels are finite. It's more expensive and technologically complex to find them. Because of our use of them we are depleting the world of energy, fresh water, and material resources at an ever faster rate as global population booms and civilization expands.
 Commercial real estate consumes more than 72 percent of all electricity, 40 percent of all raw materials and 14 percent of all fresh water in the United States. By cutting consumption and dependency upon these components of operating costs, we deeply believe our industry can generate greater cash flows and thereby deliver greater value. We deeply believe it's just good business to be green.
Using technology to lower operating expenses by creating more energy and water efficient buildings, as well as employing sustainable design to reduce future capital expenditure,  will create a more enduring valuable asset as well as have a positive impact on the environment. There is always potential jeopardy from technological, functional, physical obsolescence and regulatory exposure for any investment. Our belief is that installing sustainability as a core investment principle may help to mitigate these risks."—Doug Lawrence
Full Biography:
Doug Lawrence has more than 27 years of distinguished real estate industry and investment experience. Prior to forming 5 Stone Green Capital, he was the co-portfolio manager of the green real estate Urban Renaissance Property Fund for JPMorgan Asset Management's real estate platform. While at JPMorgan, Lawrence was a member of the real estate marketing team serving as a fiduciary to many large pension plans. He managed a large portfolio of industrial, office, multifamily and retail assets totaling more than 5 million sq. ft. valued in excess of $1 billion. His strength as a senior asset manager there garnered nine international and national awards from BOMA, IREM and NAIOP.
Prior to JPMorgan, Lawrence spent seven years as a senior asset manager for TIAA-CREF's real estate investment group; he also worked in the public sector as the Asset Manager for the City of Hartford. Earlier in his career, he was a residential developer in the U.S. Southwest. He is a frequent speaker on green building topics.
Lawrence sits on the investment and natural resources committees of the University of Connecticut Foundation and the Advisory Board of Rutgers Business School. He holds an M.B.A. in international business finance from the University of Connecticut and a B.A. from Yale University.