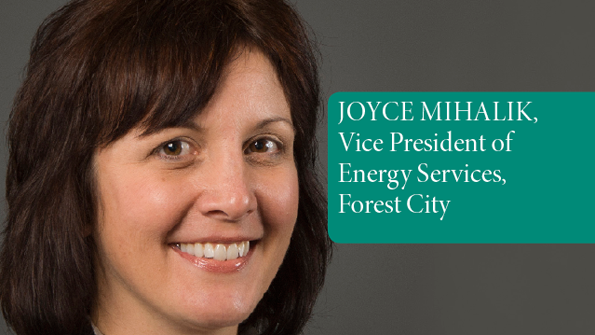 "Sustainability is the practice of executing our business strategies with a long-term commitment to high-performance products and buildings that minimize the impact on our communities—where our customers and residents work, live and play."
—Joyce Mihalik, Vice President of Energy Services, Forest City Enterprises
Full Biography:
Joyce Mihalik is responsible for developing and implementing supply- and demand-side energy strategies for Forest City's commercial and residential portfolio. Prior to joining Forest City, Mihalik was withGoodyear Tire & Rubber Co., where she served as energy manager for their North American operations. She also worked for NUS consulting in New Jersey, providing consulting service to commercial and industrial users for energy and telecommunications cost control, and spent 11 years with a gas distribution facility in Northeast Ohio in the rates, regulatory and industrial sales divisions. Previously, she served as vice president, public and business relations for CAES Development Co., a Houston-based power plant developer, working with local communities and state agencies on approval and certification of projects under development. Mihalik is certified as an industrial energy consultant and is a LEED-Accredited Professional.She holds a B.S. in industrial and systems engineering from Ohio State University and an M.B.A. from the University of Akron.