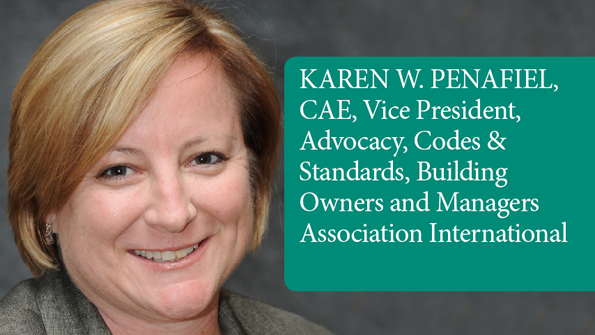 "So much of what I do in my position as BOMA's chief lobbyist is to prevent policymakers from imposing bad or overly burdensome regulations on the commercial real estate industry. Leading the charge on BOMA's sustainability issues gives me the opportunity to proactively work with Congress to enact laws that benefit the environment, help our members improve their assets, provide meaningful incentives to the CRE industry and have a positive ROI. It doesn't get much better than that! I am an avid recycler and light-turner-offer, and I believe that all it takes is for one person in each office, in each building, to find their passion and make great things happen."—Karen W. Penafiel
Full Biography:
Karen Penafiel joined BOMA International in December 1989 and serves as vice president of the association's advocacy, codes and standards division. In this capacity, she leads BOMA's federal and state advocacy programs and oversees BOMA's model building codes and voluntary standards efforts. As the association's chief lobbyist, she works with Congress and the federal agencies on a wide range of issues affecting the commercial real estate industry.
Penafiel has taken the lead on energy and sustainability issues for BOMA for the past decade and is the author of BOMA International's two guidance documents on electricity deregulation. She is currently leading the association's market transformation efforts and helped develop BOMA's green lease guides. She holds a B.A. in government from Hamilton College.