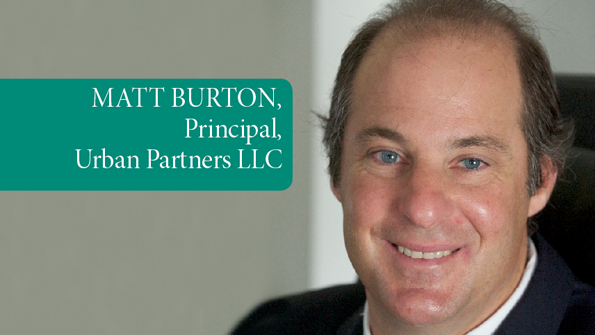 "Urban Partners LLC is an urban investor that is deeply committed to sustainability because we believe high-quality residential and mixed-use properties—where people love to live—maintain their value. We consider sustainability a 'best practice,' and it is at the heart of planning, developing and managing all of our projects. Urban Partners' employs a team of LEED-certified professionals, who have professional experience navigating the complex procedures involved in developing sustainable design and construction in-infill locations. We strive for the sustainable high bar, incorporating the most progressive design and green-building innovations within investments."—Matt Burton
Full Biography:
Matt Burton is a managing principal of Urban Partners LLC and is responsible for all equity and debt relationships, joint ventures and control services. He also assumes senior project management responsibilities on key transactions. Burton has been actively engaged in the planning, development, marketing and lease-up of over 2,000 multifamily units while at Urban Partners and has sourced in excess of $1 billion of debt and equity capital for Urban Partners investments.
Prior to joining Urban Partners in 2003 and becoming a principal in 2005, Burton served as Vice President with American International Group (AIG) and SunAmerica in Los Angeles. In these capacities, he placed and managed hundreds of millions of dollars of debt financing and created strong personal relationships within the capital markets.