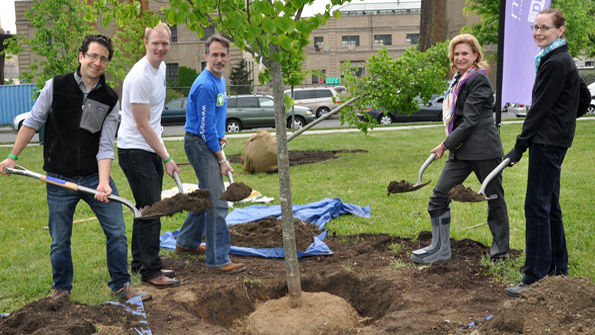 More than 100 people collaborated to plant 74 10-ft. trees at SL Green Realty Corp.'s Re-Green NYC Earth Day action event held on May 18th on Randall's Island.
Planting trees helps to preserve the environmental footprint on Randall's island, and benefits include reduction of air pollutants, capturing carbon dioxide, stabilizing soil, preventing erosion and providing shade. One tree can absorb as much carbon in a year as a car produces while driving 26,000 miles.
Held in coordination with Randall's Island Park Alliance, and with New York Restoration Project and the Urban Air Foundation participating, the event was a part of Mayor Bloomberg's MillionTreesNYC Program, a PlaNYC Initiative. From left to right: Stephen Rizzo (Urban Air Foundation); Jay Black (Director of Sustainability, SL Green Realty Corp.); Geoffrey Glick (SR VP of External Affairs, NYRP); Congresswoman Carolyn Maloney, Commissioner Veronica White (NYC Parks).
Wexford Science & Technology Begins $73M Renovation of Historic St. Louis Building Into Sustainable Facility
Wexford Science & Technology LLC, a private real estate development and investment company, is transforming the historic Heritage Building in the CORTEX District in St. Louis's Central West End into a LEED-certified, state-of-the-art, sustainable, multi-tenant laboratory and research facility.
Construction of this new facility, to be completed by late 2013 and renamed @4240, kicks off Phase II development in the CORTEX District. This $73 million building, located at the corner of Duncan and Boyle streets, will attract national research organizations and will be home to approximately 457 full-time research, technology and related jobs. As an anchor tenant, Washington University in St. Louis will lease 69,000 sq. ft. of space for its offices of technology management, research administration and faculty practice plan. Additional lab and office space are available for lease.
Wexford Science & Technology LLC is a Baltimore-based development company that collaborates with leading universities, research institutions, and healthcare systems to create and build knowledge communities—vibrant, mixed-use, amenity-rich environments that integrate academic, corporate, and entrepreneurial research and development activities. Wexford currently has developed eight additional knowledge communities across the U.S.
"Wexford's commitment in transforming an historic property to a place for research and discovery makes it a unique design project in itself," David Chassin of HOK, architects for the redevelopment project, said in a statement. "Challenges are inherent for these types of projects; not only are we rehabilitating an historic building, we had to make it flexible to support different types of research and be energy-efficient to achieve the highest possible level of LEED certification. It's an ambitious project, and we're building it right here in the heart of St. Louis."
AECOM's Tishman Construction Manages Sustainable, Luxury Mixed-use Development in Hoboken, N.J.
AECOM Technology Corp., a Los Angeles-based provider of professional technical and management support services for public and private clients in more than 140 countries around the world, announced that its Tishman Construction operation is managing the construction of Park Place, a premier green development in the northeast corridor of Hoboken, N.J.
Developed by Bijou Properties in partnership with the AFL-CIO Building Investment Trust, the 412,350-sq.-ft. building will feature 212 rental units, retail space, a six-level parking garage and educational areas. When finished, Park Place will be one of only two LEED-certified Gold residential rentals in Hoboken.
On May 7, the representatives from the development partners and project teams were joined by local officials and labor organizations to celebrate the site's official groundbreaking. Having already provided preconstruction services, Tishman is currently clearing the site and beginning the project's initial construction phase. Completion of the $131million mixed-use development is expected in early 2015.
Trident Sustainability Group Reports Increase in Green Building Projects in Georgia
Savannah, Ga.-based Trident Sustainability Group, a full-service sustainability and green building consulting firms, is reporting a steady upward trend in the amount of work his firm has been contracted over the last months. During the U.S. Green Buildings Council's Sustain South Carolina 2013 Conference & Expo in Myrtle Beach, S.C. in April, Trident CEO Tommy Linstroth elaborated on these contracts. A large amount of Trident's projects come from the institutional and affordable housing sector commissioned by universities, communities, and the government. These projects, all to be finalized and certified with a minimum of LEED Silver or Gold, include a library for Armstrong Atlantic State University, two dining halls for Georgia Southern University, the Chatham County Health Center and a 50-unit affordable housing project.
In addition, Trident is working on a residential project, which will be prove that it is possible to build a sustainable, energy-efficient home, which is custom-designed, modern and covers all necessities for a growing young family, for around $150 per sq. ft. Blending historically compatible materials with a present-day flare, this project will be LEED for Homes Platinum.
Trident Sustainability Group also operates an organizational sustainability program, which assists major companies in developing and implementing sustainability strategies for all parts of their firms.
Nationwide Title Clearing Inc. Volunteers at Island Earth Days
Nationwide Title Clearing Inc., a service provider for the residential mortgage industry, is incorporating corporate social responsibility (CSR) into its business model. (CSR is a process which aims to embrace and encourage a positive impact through a company's activities on the environment, community and surrounding public.) While CSR is typically carried out by international corporations with a broad global reach, NTC has managed to make an impact within its own Palm Harbor, Fla. community. Through its business-with-a-purpose mission, NTC has embraced and encouraged the purpose to have a positive impact on the environment and surrounding community.
In April, 10 NTC volunteers attended Island Earth Days, an event held at Honeymoon Island State Park in recognition of Earth Day. NTC also planted a tree on NTC property to demonstrate its support of Palm Harbor environmental issues as part of Palm Harbor's sustainability initiatives.
C.W. Driver Completes $110M Construction of Newport Beach Civic Center and Park
C.W. Driver, a builder serving the Western U.S., completed construction of the Civic Center and Park Project for the City of Newport Beach. Located at 100 Civic Center Drive, next to the Newport Beach Central Library, the 117,000-sq.-ft. project, which has been under construction since May 2010, adds 17,000 sq. ft. to the two-story library, a new 450-space parking structure, an 88,000-sq.-ft. office building and a community room and city council chambers totaling a combined 12,000 sq. ft. The project also creates the city's fifth-largest park at 14 acres, with its first-ever dog park. Construction costs totaled approximately $110 million. The new civic center, which officially opened in May, is currently slated for LEED Silver certification, with the possibility of LEED Gold.
A new pedestrian bridge connects the south and north park parcels, provides views of the park, Civic Center and Pacific Ocean, as well as decreases the impact of pedestrian traffic crossing the busy San Miguel Avenue.
The new City Hall, which houses about 220 employees, also includes a 150-seat City Council Chambers, an emergency readiness center, a new community room and a one-stop permit center. The exterior is constructed with glass and steel with a wave-like roof to give the building an iconic look and a sustainable future. With special features to maximize wind and solar efficiency, the building is projected to save more than $85,000 per year in energy costs compared to a traditional new building.
The Newport Beach Civic Center and Park Project joins a number of other civic projects C.W. Driver has been involved with, including the City of Laguna Niguel City Hall, the City of Beverly Hills Public Works Warehouse and Shops; the Palm Desert Administrative Facility for the Coachella Valley Water District; the Victoria Gardens Cultural Center and Library for the City of Rancho and the recently awarded City of Manhattan Beach, Manhattan Beach Library.
Colliers International Arranges Environmental Defense Fund Lease Renewal at Gramercy Park Building
Colliers International arranged a 44,010-sq.-ft. renewal for Environmental Defense Fund (EDF) at 257 Park Avenue South, also known as the Gramercy Park Building.
EDF—a national organization that seeks to create transformational solutions to the most serious environmental problems by linking science, economics, law and innovative private-sector partnerships—will continue to occupy the entire 16th to 18th floors, with additional space on the 12th floor, for at least the next 10 years.
EDF has been working closely with the building's owner to ensure a changeover of the building's heating system from No. 6 fuel oil to natural gas as part of the NYC Clean Heat program.
Built in 1912 and located at the corner of East 21st Street, 257 Park Avenue South is a 20-story, 226,000-sq.-ft. Art Deco building with a spacious lobby, restored sculpted ceiling and new elevator cabs, and offers views of Gramercy Park, Union Square Park and Madison Square Park.
Additional tenants in the building include Gotham magazine, Spa-Finder, the Better Business Bureau, FedEx Kinko's Office & Print, Cosi Sandwich Bar and Bravo Pizza.
The building's owner, The Feil Organization, was represented in-house by Robert Fisher.
Rapid Realty NYC Hires Chief Sustainability Officer
Rapid Realty NYC announced that Stephanie Barry has joined the firm as its first chief sustainability officer. Barry, a certified Eco Consultant, will be responsible for helping franchise owners reduce their carbon footprints by performing Eco Audits and identifying sustainable solutions. Her leading Rapid Green initiatives include taking the company paperless, introducing an online training program and helping the various offices switch to alternative energy sources. Barry's future projects include a garden planting program and training seminars to introduce green initiatives to landlords and customers.
Before joining Rapid Realty, Barry formed City Green Life in Miami with business partner Mary Keel. They are credited with green branding several music festivals and participated in bringing green initiatives to a variety of annual Art Basel events.
Kaiser Permanente to Pursue Minimum of LEED Gold for all New Major Projects
As part of its ongoing commitment to create healthy communities, Kaiser Permanente announced it will seek LEED Gold certification for new construction of hospitals, large medical offices, and other major projects.
The Kaiser Permanente Westside Medical Center in Hillsboro, Ore., opening in August, is the first Kaiser Permanente hospital to earn LEED gold status. The modern, 126-bed hospital will be Kaiser Permanente's 38th hospital. With plans to spend roughly $30 billion over the next 10 years on hospital and medical office construction, Kaiser Permanent's LEED gold commitment is expected to affect 14 million sq. ft. of real estate, or more than 100 buildings over the next 10 years.
Kaiser Permanente's wide-scale pursuit of LEED certification formalizes its longstanding commitment to green building practices. For many years, Kaiser Permanente has led the industry in demanding environmentally sustainable materials for its buildings. For example, the organization was among the first in health care to eliminate polyvinyl chloride (PVC) from carpets and flooring, working with manufacturers in 2004 to introduce several new PVC-free building products to the market when none existed.
Kaiser Permanente is also a leader in addressing climate change. The organization generated 17 million kilowatts of clean energy in 2012 via solar panels at 11 hospitals and other buildings in California—one of the largest health care solar installations in the country. In 2012, the organization committed to reducing greenhouse gas emissions by 30 percent from a 2008 baseline by 2020 through renewable energy, improving the energy efficiency of existing buildings, and ambitious goals for new construction.
Kaiser Permanente earned LEED Platinum EB for its Napa, Calif. Data Center; its Gwinnett and Townpark medical centers in Georgia are both expected to earn LEED Silver. In addition, almost all new construction since 2007 has been built using the Green Guide for Healthcare, a rigorous, third-party green building verification system upon which the new LEED for Healthcare guidelines were based.
For its continued excellence in environmental stewardship, Kaiser Permanente earned a record 29 environmental excellence awards this year from Practice Greenhealth, a national membership organization for hospitals and health systems committed to environmentally responsible operations and care.
BASF Joins Habitat for Humanity
BASF employee volunteers have joined Morris Habitat for Humanity to build homes for three families in Madison, N.J. More than 30 BASF employees worked on various aspects of construction, installing roofs, exterior walls and exterior frames for the homes.
Morris Habitat for Humanity helps reduce the community's carbon footprint by incorporating sustainable building practices during construction. All three homes will be Energy Star certified for energy efficiency. New homeowners will contribute 300 hours of labor and learn the importance of sustainability at mandatory homeownership classes. The three new Habit for Humanity units will be developed in partnership with Morris Habitat for Humanity and the Madison Affordable Housing Corporation. The homes will be sold in accordance with New Jersey Council on Affordable Housing rules and regulations.
BASF's commitment to sustainable construction is also demonstrated by the LEED double Platinum certification of its new North American headquarters, which features a variety of BASF-enabled construction solutions.
CarCharging Acquires 350Green; Enters JV With Nissan
CarCharging Group Inc., a national provider of electric vehicle charging services, has acquired its competitor, 350Green LLC. This is the third acquisition this year for CarCharging as the company recently acquired Beam Charging and EVPass. With the acquisition of 350Green, CarCharging is now the owner of the largest independent public EV charging station network in the world.
Car Charging also announced a joint initiative with Nissan to make EV charging more readily available and expand consumer awareness of the electric car market. CarCharging and Nissan will work together to determine the placement of the chargers, which is expected to be in key markets throughout the United States by the end of 2013.
Nissan's quick charger stations reduce charging times, charging a fully-depleted Nissan LEAF to 80 percent capacity in approximately 30 minutes. The initial goal for the initiative is to deploy the 48 Nissan-branded quick chargers primarily in California and on the East Coast.
As a part of the initiative, CarCharging will continue to educate consumers about how the EV charging infrastructure enhances the adoption and use of electric cars. This campaign will include tools to communicate the charging opportunities for drivers without private garages, such as residents of apartment and condo communities; the ease and benefits of public EV charging; and charging subscription offerings.
CarCharging is also developing a mobile application to provide real-time charging station location information with turn-by-turn directions and access capability for all CarCharging EV charging stations, including ChargePoint and Nissan's quick chargers. CarCharging will also offer its proprietary evCharge card at no cost to all LEAF drivers at participating Nissan dealerships. The evCharge card allows drivers to initiate use and payment at all public charging stations on the ChargePoint Network, the largest national online network connecting EV drivers to EV charging stations.
Eleven Entities in Iowa, Kansas, Missouri and Nebraska to Receive  $4.5M from EPA to Clean Up Brownfield Properties
Nine cities and two state agencies in Region 7 have been selected to receive more than $4.5 million from the EPA's Brownfields Assessment, Revolving Loan Fund and Cleanup (ARC) Grants program. These funds will provide key support toward the assessment, cleanup and revitalization of brownfields properties in Iowa, Kansas, Missouri and Nebraska communities.
The 11 recipients in EPA Region 7 are among 240 in 45 states to receive ARC grants for 2013.
They include Coralville, Iowa, $382,000 for assessment; Council Bluffs, Iowa, $200,000 for assessment; Dubuque, Iowa, $400,000 for assessment; Fort Dodge, Iowa, $400,000 for assessment; Ottumwa, Iowa, $400,000 for assessment; Howardville, Mo., $200,000 for cleanup; Kansas City, Mo., $600,000 for cleanup; Springfield, Mo., $400,000 for assessment; Lincoln, Neb., $400,000 for cleanup; Kansas Department of Health and Environment, $600,000 for assessment; and Missouri Department of Natural Resources, $600,000 for assessment.
EPA's Brownfields ARC Grants target under-served and economically disadvantaged neighborhoods where environmental cleanups and new jobs are most needed. Region 7 communities will use these funds to conduct environmental assessments, cleanup planning, cleanups and conduct community outreach. Coalition partnerships allow recipients to reach more neighborhoods that might not otherwise have access to resources to address blight.
Brownfields are defined as those properties whose expansion, redevelopment, or reuse may be complicated by the presence or potential presence of a hazardous substance, pollutant, or contaminant. Brownfields sites include all real property, including residential, commercial and industrial properties. It is estimated that there are more than 450,000 brownfields in the U.S. Cleaning up and reinvesting in these properties increases local tax bases, facilitates job growth, utilizes existing infrastructure, takes development pressures off of undeveloped, open land, and both improves and protects the environment.
Employee Engagement/Sustainability Thrive at Intel, Says 2012 Corporate Responsibility Report
Intel Corp. released its 2012 Corporate Responsibility Report, highlighting the company's performance in areas including employee engagement, environmental sustainability, supply chain systems and education. The report also showcases the Santa Clara, Calif.-based Intel's progress toward its 2020 environmental goals that aim to drive continuous improvement in the company's manufacturing operations and the energy efficiency of its products. As of April 2013, Intel has achieved LEED certification for 29 new and existing buildings, with a total of more than 7.5 million sq. ft. of floor space. For the past five years, the U.S. Environmental Protection Agency has recognized Intel as the largest voluntary purchaser of green power in the nation. In 2013, Intel will increase its green power purchases to nearly 3.1 billion kWh, equivalent to 100 percent of the company's projected U.S. electricity use for the year and equal to the annual electricity use of more than 320,000 U.S. homes. Since 2009, Intel has partnered with third parties to complete 18 solar installations on nine Intel campuses in the United States, Israel and Vietnam, generating more than 10 million kWh of energy per year.
Building on its nearly 20 years of reporting, Intel is continuing to promote transparency in its performance and actions. Highlights from the 2012 report include:
·         Since 2008, Intel has linked a portion of every employee's compensation to environmental goals, focusing on carbon emission reductions in 2012 and solid waste recycling in 2013.
·         Through Intel Involved, employees in 2012 donated 1.2 million hours of service to more than 5,400 schools and nonprofit organizations in 42 countries, bringing the total donated hours to more than 5 million over the past 5 years.
·         Twelve employee teams received Intel Environmental Excellence Awards for sustainability projects, generating more than $40 million in estimated savings in 2012 and totaling more than $200 million in savings over the past 3 years.
·         Through Intel's Sustainability in Action grant program, nine teams of employees received grants in 2012 for environmental projects ranging from planting a vegetable garden at a children's home in Singapore to developing a water purification system in rural India.
Key Bronx Crossroads on the Road to Revitalization
The new $41 million Triangle Plaza mixed-use transit-oriented development in the South Bronx, expected to be completed by early 2014, will serve as a catalyst for a revitalization of a major intersection that was once a bustling urban center. The 25,000-sq.-ft. class-A office building will be certified LEED Silver and will include 90 parking spots.
Currently, the building site at the intersection of 149th Street and Third Avenue, Melrose and Willis Avenues draws 200,000 people passing through because, laced with subway and bus lines, the area also serves as a transit center.
In place of two weed-strewn parking lots, Triangle Plaza's new buildings, totaling 187,000 sq. ft., will house restaurants, a FRESH grocery store, nonprofit offices for Legal Services of NY, a charter school, a community health clinic and a publicly accessible plaza. The project is expected to create 300 new jobs.
The project will be consistent with the economic development goals of city planners. Nearby developments will include Via Verde, a residential building and the Shops at Northrose. The area is close to Yankee Stadium, the Grand Concourse, Lincoln Hospital and Hostos Community College.
Orlando Celebrates Groundbreaking of First LEED Apartments
Construction has begun on what will be the first apartments delivered in the Orlando, Fla., area with LEED certification. An official groundbreaking ceremony for the apartments was held at Azul Baldwin Park.
Upon completion in December 2013, Azul Baldwin Park will be a boutique, luxury-hotel styled apartment community. The project is distinguished by its LEED certification and amenities, which will include a pool with private cabana areas and an on-site spa with private massage rooms and manicure and pedicure stations. 
Azul Baldwin Park is the first project to be completed by Jefferson Apartment Group in the Orlando area. When finished, it will serve as a model LEED project in the community. To seek certification, Azul Baldwin Park will include a number of elements relating to the Energy and Atmosphere LEED category. A concrete tile roofing product that contains a high solar reflective index value will be used to reduce the overall amount of solar energy the building attracts and absorbs, in turn minimizing the heat island effect. Additionally, the fixtures selected throughout the building will use 40 percent less water than comparable properties. This significant reduction in overall water usage is achieved specifically through fixtures selected for the project such as low-flow toilets, urinals, kitchen sinks and showers. The Water Efficiency LEED category will also be met through the exclusive use of reclaimed water, or gray water, for landscape irrigation.  
Azul Baldwin Park is positioned in the heart of a walkable community. An abundance of restaurants, a grocery store and parks are within a half-mile of the development. This Development Density and Community Connectivity quotient will also contribute to certification. Other considerations to encourage ride sharing and smart transportation choices will be built into Azul, including preferred parking for low-emitting and fuel-efficient vehicles, as well as designated car pool areas.
City of East Palo Alto Wins Grassroots Initiative Award of Merit for TOD Specific Plan
The City of East Palo Alto, Calif., received a Grassroots Initiative Award of Merit for the Ravenswood Business District/4 Corners transit-oriented development (TOD) Specific Plan. The Northern California Chapter of the American Planning Association presented the award to the City of East Palo Alto at its annual awards dinner on May 17, 2013.
The Ravenswood Business District /4 Corners TOD specific plan represents East Palo Alto's primary opportunity to accommodate land uses that will create jobs and improve the quality of life of all residents. The specific plan is a community-based vision of a walkable downtown and employment center with a network of parks, trails, and community facilities. The specific plan will facilitate the transformation of East Palo Alto by adding almost 5,000 new jobs, 30 acres of parks, 4.5 miles of trails, 835 residential units and more than 1.5 million sq. ft. of office, R&D, and industrial development.
The specific plan's success was based on a comprehensive, meaningful and transparent community engagement process that included extensive community-based outreach. It was adopted on September 4, 2012.
The Grassroots Initiative Award recognizes planning efforts that have expanded the public understanding of the planning process and have a high degree of collaboration between civic leadership and community interests.
EEB Hub Joins BOMA International as Leadership Circle Partner
The Energy Efficiency Buildings (EEB) Hub has joined forces with the Building Owners and Managers Association (BOMA) International as the latest member of the BOMA Partnership Program. As a BOMA Leadership Circle Partner, the EEB Hub pledges to support BOMA's vital programs in advocacy, education and research.
BOMA International's Partnership Program, developed in 2004, allows companies to invest in their own success and viability, as well as that of the building management industry. With three levels of participation—Cornerstone Partner, Leadership Circle Partner and Supporting Partner—the program demonstrates the commitment of leading organizations to support BOMA International with the resources to advance its various initiatives that benefit the entire commercial real estate industry.
The Energy Efficient Buildings Hub was established in Philadelphia by the U.S. Department of Energy (DOE) as an Energy-Regional Innovation Cluster with a unique dual mission of improving energy efficiency in buildings and promoting regional economic growth and job creation. The goal of the EEB Hub is to reduce energy use in the Greater Philadelphia commercial buildings sector by 20 percent by 2020. To reach this goal, its efforts are concentrated on accelerating the adoption of Advanced Energy Retrofits by average-sized commercial buildings. Led by Penn State, the EEB Hub includes 27 performer organizations, including research universities, DOE laboratories, industrial firms and economic development agencies. 
Madox in Jersey City Receives LEED Silver Certification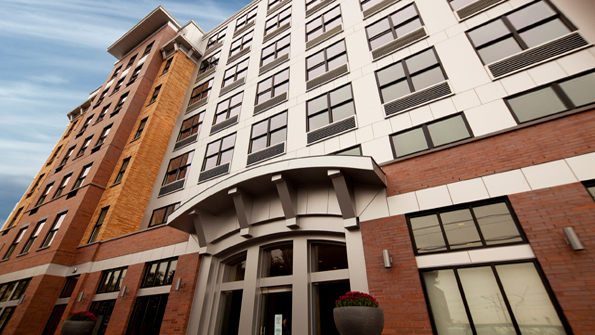 Fields Development Group's Madox, an upscale green rental building in Jersey City, N.J., has received LEED Silver.
Situated at 198 Van Vorst Street in Jersey City's historic Paulus Hook neighborhood, the seven-story luxury rental building becomes the first residential project to be LEED certified in this Hudson County City.
Madox features 131 one- and two-bedroom apartment homes with interior elements and fixtures that conserve energy, increase water efficiency and improve air quality. The building's largest amenity, its expansive rooftop deck, is also the feature that most vividly illustrates Madox's green focus by presenting a large outdoor recreation area for residents while also controlling storm water runoff and generating renewable power with PV Solar Array panels and green roof vegetation. Additional sustainable elements include electric car charging stations, and building systems to reduce water consumption by over 45 percent and energy consumption by 14 percent. The building will also be under contract for at least two years to provide 35 percent of its electricity from renewable sources and is 100 percent smoke free.
 Other green aspects of the building are consistent with responsible urban development, including a location within walking distance to several mass transit options including PATH, Light Rail, NJ Transit Buses and NY Waterway Ferry, hosting two vehicles in a car share program, bike storage, electric car charging stations and community connectivity with walking distance to parks, shops, schools, library, fitness center, hospital, banks, churches and restaurants.
Located directly next to the Bergen-Hudson Light Rail, Madox fills the gap of the property's former industrial use with an attractive residential address that creates a continuous streetscape along tree-lined Van Vorst, Morris and Essex Streets. Fields Development worked closely with the Historic Paulus Hook Association to ensure the building's exterior blended with the existing neighborhood. Consistent with its green goal, Fields Development Group utilized recycled materials and reclaimed wood that promotes Madox's feeling of old charm and comfort. The end result was a classic multi-toned façade that reflects Paulus Hook's classic look, yet provides a modern flare. Fields Development Group has also repaved sidewalks around the building and planted trees to create a comforting environment, and a minimum of 50 garage parking spaces in Madox will be offered to local residents to reduce the amount of demand for street-parking.
Madox will bring additional services and stores to Paulus with two state-of-the-art and modern retail spaces. The prime street-front spaces can accommodate a wide range of business types. One space—a 1,550-sq.-ft. suite located directly on Van Vorst Street—is ideal for a restaurant or café with outdoor seating and pre-installed duct work that can specifically equip an eatery. The second 2,060 sq.-ft. space offers a highly visible location on the corner of Van Vorst Street and Morris Street. Parking will be available via the building's on-site valet garage.
Madox residents also enjoy a host of onsite modern amenities and services, including a keyless entry system, 24-hour doorman, state-of-the art gym, a lobby lounge with a library, business center and communal technology table with iPad Station, iMac and PC; and a residents-only lounge with children's play area, kitchenette, two TVs and more.
Marina Lofts Celebrates Earth Day at Fort Lauderdale Rain Tree
To honor Earth Day, Marina Lofts developer Asi Cymbal hosted an Earth Day event for nationally recognized arborists and other environmental experts at the downtown site of the Fort Lauderdale, Fla., Rain Tree. The presenters explained the process of preserving and transplanting trees, and described how the Rain Tree will be safely relocated to the new Rain Tree Park.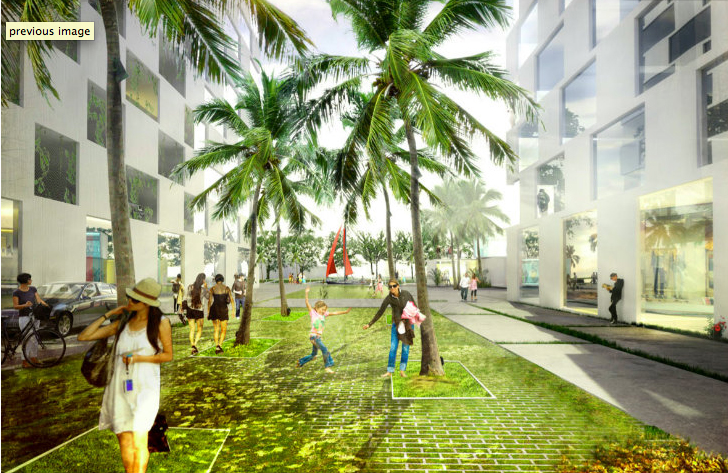 Marina Lofts is a mixed-use, LEED-certified, eco-friendly, artists' community in downtown Fort Lauderdale that brings together affordable luxury residential units, live-work units, retail, restaurants and a marina. Designed by world-renowned architect Bjarke Ingels, one of Florida's most environmentally sustainable developments, Marina Lofts will preserve 78 trees, including the African Rain Tree, which will be situated at the center of the local downtown community. Marina Lofts is Environmental Design, a national mover of giant and endangered trees, will oversee the Fort Lauderdale Rain Tree's preservation and relocation to Rain Tree Park, where it will be accessible to the public for the first time in over a decade. Paul Cox, vice president at Environmental Design, spoke about his experience transplanting trees and leading preservation projects, including the National Christmas Tree, relocation of historic trees at the Supreme Court of the United States, installation of trees at the National 9/11 Memorial in lower Manhattan, and the successful transplantation of the largest tree ever moved in North America.
Cox provided some key statistics in a statement: "Environmental Design has a 100 percent success rate preserving trees weighing over 1 million lbs., with our largest relocation weighing in at approximately 1.5 million lbs. We estimate that the Fort Lauderdale Rain Tree weighs approximately 1 million lbs."
Asi Cymbal concluded the Earth Day event by noting, "Marina Lofts is the most eco-friendly, environmentally sustainable development in Florida, a LEED-certified project that will preserve 78 trees including our magnificent African Rain Tree. Our Rain Tree will be the heart of our downtown community and highlight our union of environment, art, architecture, and urbanism."