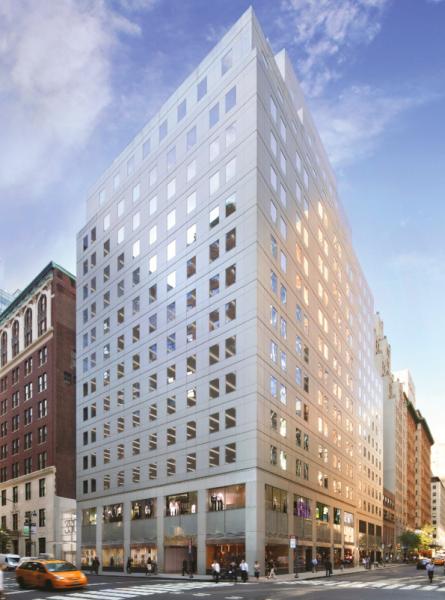 NEW YORK—RFR Realty LLCtoday has appointed CBRE as exclusive leasing agent for 350 Madison Avenue, on the corner of 45th Street, its iconic trophy-class office building one block from Grand Central Station in the heart of Midtown Manhattan. Peter Turchin, Executive Vice President with CBRE, will lead the team in marketing and leasing the 25-story, 400,000-sq.-ft. tower. In conjunction with the leasing campaign, RFR is rolling out a comprehensive $30 million capital improvements campaign at the property.
Since opening its New York office in 1991, RFR has built a world-class portfolio of commercial and residential real estate, including many of New York's signature office towers, ultra-luxury condominiums, hotels and high-end retail developments. The company's unique combination of European sophistication and American ingenuity has brought the firm to the forefront of the real estate industry. At 350 Madison Avenue, RFR is currently working closely with architect Dan Shannon of Moed de Armas & Shannon Architects as well as interior architect TPG Architecture on a variety of building enhancements that will firmly establish it as a signature Manhattan office destination.
The two-story, sky-lit lobby will be updated to reflect RFR's singular vision and aesthetics, including Venetian plaster white walls, granite and white terrazzo flooring, interior landscaping, a rotating world-class public arts program, contemporary lighting and concierge station, and an amenity coffee bar and convenience stand, as well as modern elevator cabs and a newly designed entry canopy. CBRE and RFR will also be unveiling new, detailed floor plans and occupancy programs this fall that will revolutionize the building.
"With CBRE's breadth of commercial real estate experience and talent we will be able to fully realize the potential of this coveted address," said Aby Rosen, co-founder and principal of RFR Holding LLC, said in a statement. "Combined with RFR's exceptional operating, developing and management pedigree, we are confident that Peter and his team will do a tremendous job representing this best-in-class property and attracting top-level occupancy."
CBRE's Turchin, Evan Haskell, Ross Zimbalist, Ben Fastenberg and Desiree Harbacek are the professionals responsible for leasing the property.
"RFR has a solid track record for transforming their properties into the very best in class in every individual marketplace, and we are confident that 350 Madison will achieve that status after this extensive renovation is complete," Turchin said in a statement.