Office building owners know it's almost impossible to measure the success of adding sustainable features, as most tenants don't make their leasing decisions solely on the basis of water or electricity savings.
However, researchers at property services firm DTZ say they have come closer than anyone to answering the question by stacking up tenant surveys against the buildings they occupy. Allison Porter, vice president of sustainability certifications at DTZ, says her team matched tenant responses to Kingsley Associates' tenant surveys with 61 buildings in Washington, D.C. The purpose, she says, was to see if tenant happiness went up along with sustainability features at the buildings the tenants occupied. The results seemed to match the hypothesis: A building with more green features impacted how tenants perceived their workplace, Porter says.
"The results seem to show that tenants who are in sustainable buildings are more satisfied," Porter says. "We already know that tenant satisfaction leads to tenant retention, which decreases vacancy and rollover costs."
Among the findings: tenants ranked buildings higher if the property held certifications such as LEED EB (Existing Building) and Energy Star. For example, buildings with Energy Stars scored 30 points higher than non-Energy Star buildings, and LEED EB buildings scored 10 points higher than non-LEED buildings.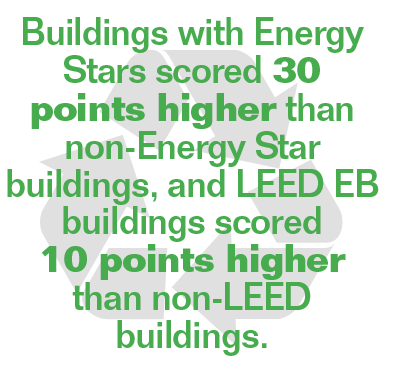 "We want to help landlords keep their tenants, and keep competitive," Porter says. "You're an owner trying to keep a lease, you don't want the tenant to line up your building side-by-side with others and find reasons to cross yours off."
Also, tenants don't just expect green, they have specific wants that may be more about perception than reality, she adds. The green feature most adapted at office properties is recycling, with most tenants initiating programs similar to their at-the-curb requirements at home. However, what tenants really want, Porter says, is comfort. "From the data we see, a building [too] hot or [too] cold is the number one complaint to building management."
Bob Best, executive vice president at JLL's energy and sustainability services group, says too much focus on efficiency can turn tenants off. Understanding which green features are good for employee productivity in a particular building can be critical for return on investment in green building or green office programs, Best says.
What's the impact?
For example, today's new building software systems can track a wide range of sustainability and productivity metrics in one building or across many, and benchmark a company's scores against other companies' metrics to identify potential—achievable—sustainability and productivity goals. Using the scores, Best says, a company can pinpoint offices and specific activities in need of improvement, and establish a baseline to re-assess every year to maximize the use of space, reduce natural resource consumption, provide an efficient workplace and demonstrate proof of corporate social responsibility—meanwhile improving employee engagement, wellness and productivity.
The key for employers is to quantify the relationship between environmental sustainability and employee productivity though data-driven measurements, and then use that data to inform a company's workplace strategy and business goals, he says.
"For example, a facility achieving energy savings may achieve a high 'green' score, but a low productivity score because employees are too hot or cold," Best says. "The right metrics will enable a company to quantify the impact on annual revenue. It might earn a high productivity score for a work-enabling office layout, but a low green score for lack of on-site recycling."
Regardless of perception, building owners are still following the wave of sustainability. Many companies, such as Bethesda, Md.-based First Potomac Realty Trust, now openly tout sustainability as something that sets them apart. The REIT claims that a one-million-square-foot portion of its portfolio is LEED-certified, with the potential for another 700,000 sq. ft. to be certified in future development projects.  Approximately half of the portfolio's multi-story office square footage is LEED- or Energy Star-certified.
Ernie Jarvis, senior vice president at First Potomac, says space occupiers are increasingly giving great weight to buildings that are LEED-certified, or have some other type of sustainability feature.
"Driven by the changing workforce demographic, employers realize the millennials are embracing the environment and sustainability even more, and are using new work environments as an attraction and retention tools," he says. "Property owners should take notice of this trend."