Century 21 Department Stores continues to expand outside its New York metro footprint. Following its fall 2014 opening in Philadelphia, the chain recently inked a lease for an 85,000-sq.-ft. store in Sawgrass Mills in South Florida. The new location will be the first outside of the Northeast when it debuts in fall 2016.  
Established in 1961, Century 21 Department Stores is known for offering designer merchandise in every category at 40 to 65 percent off retail every day. The chain offers men's, women's and children's apparel, footwear, outerwear, lingerie and accessories along with cosmetics and home goods at select stores.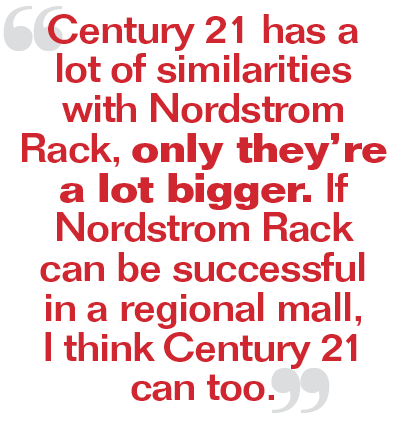 The Mills has purchased eight acres, which previously housed the VF Factory store and parking area, to serve as the site for the new Century 21. The store will be located in the heart of Sawgrass Mills near The Colonnade Outlets.
Gregg Goodman, president of The Mills, says there is a built-in synergy between The Mills and Century 21 Department Stores brands and customers. "At Sawgrass Mills, which is the largest outlet and value retail shopping destination in the U.S., it's all about increasing the frequency of visits," he explains. "Century 21 differentiates by bringing in new merchandise on a regular basis. Shoppers have no complacency. They don't think that what's in the store today will be there next week. That keeps shoppers coming back and creates a higher frequency of visits."
Appeals to deal-seekers
Century 21 Department Stores' decision to open a location in Sawgrass Mills makes a lot of sense, according to Anjee Solanki, national director of retail services, USA, at Colliers International. "The retailer isn't a power center or lifestyle tenant," she says. "They're targeting buyers who are looking for a really great deal, so they're more of an outlet center tenant."
Solanki says Century 21 also fits into the tenant mix for many regional malls, especially those in affluent markets. She points to Nordstrom Rack, which has opened stores in several regional malls. "Century 21 has a lot of similarities with Nordstrom Rack, only they're a lot bigger," she notes. "If Nordstrom Rack can be successful in a regional mall, I think Century 21 can too."
To that end, Century 21 will open a 70,000-sq.-ft., two-level store at Green Acres Mall in Valley Stream, N.Y., on the South Shore of Long Island. Set to open in fall 2015, the store will serve as an anchor for the Sunrise Highway portion of the center. A flagship H&M recently opened in the 1.8-million-sq.-ft. center, which is located in the affluent Nassau County.
Raymond Gindi, CEO of Century 21 Department Stores, said the Green Acres Mall is an "ideal" location that will expose the chain to both an urban and suburban luxury-seeking shopper. 
Rent-sensitive tenant
Bringing Century 21 to Sawgrass Mills was a multi-year undertaking, according to Goodman. "It's something that we've been talking about for several years," he says. "They require a lot of space, and it can be a challenge to accommodate tenants of their size."
Century 21 stores typically have a footprint between 80,000 sq. ft. and 100,000 sq. ft., Solanki notes. That makes them an ideal anchor for a regional mall or outlet center, especially for those properties that have lost anchors. "As Sears and JC Penney vacate properties, it will create opportunities for Century 21 to take that space," Solanki says.
But Solanki is quick to point out that the chain is known for being rent sensitive, and the cost of renovating an older Sears or JC Penney box might be prohibitive. "If you look at Century 21's newer stores, they're designing them to look and feel like a high-end department store with chandeliers and white oak floors," she notes. "Unless the landlord is willing to invest a lot of money, it probably won't make financial sense for Century 21 to lease an older department store space."