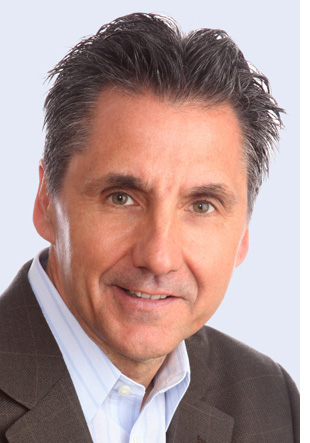 Realcomm Conference Group LLC is a worldwide research and events company at the intersection of technology, innovation and real estate operations. Realcomm provides networking and collaboration activities as well as education for commercial real estate industry professionals on cutting-edge business solutions and technologies to improve building development, leasing, management and operations. Founded with the goal of bringing industry leaders together to discuss, demonstrate and debate the latest innovations, Realcomm's global events have been attended by more than 20,000 people, and its magazine and weekly newsletter are distributed to more than 50,000 industry professionals.
Realcomm/IBCon (Intelligent Buildings Conference) will be held on June 12 to 13 (with "pre-con" activities on June 11) at Orange County Convention Center in Orlando, Fla. To find out what's on offer, NREI spoke to Realcomm CEO and founder Jim Young. An edited transcript of that interview follows.
NREI: Smart building technology is changing rapidly since it began to take hold some years ago. What exactly is a smart building?
Jim Young: If you ask 100 people, you're probably going to get 100 different answers. And over the years, the definition of smart buildings has changed.  In our world, so as not to miss anything, we've defined the smart building as a "smart, connected, high-performance, intelligent" building.  And "high performance" is actually a code phrase for green. 
A smart building encompasses a multitude of things. I like to think of it as a three-legged stool, with the legs being:
(1) Energy efficiency: Obviously, not wasting energy in a building is important, but so are other natural resources, like water. The technology out there now is very good at making sure that we don't waste these natural resources.
(2) Operational efficiency: This component is often overlooked, but many believe it can actually produce an equal to, if not larger than, payback as energy efficiency. This means managing maintenance and operational processes via the network. I like to use the fire extinguisher as an example. Being able to connect a fire extinguisher to a network means no one has to walk around your building once a month inspecting every fire extinguisher and punching a hole in a card.
(3) Occupant experience is often the most overlooked component of all. If you don't have happy occupants, you have empty buildings, and that doesn't do much for your finances. 
These three legs of the stool support the seat, which is financial optimization. Even though people do a lot of green sustainable things for good reasons, their motivation increases substantially when you put a return on investment in it. If they can actually save significant amounts of money, building owners and operators will be faster at adopting these smart building technologies. 
Another part of what defines a smart building is that it is not part of the old building automation world, where you had one system by one manufacturer and up to eight to 10 systems in one building. In our world, a smart building is open, interoperable, integrated and Internet protocol (IP)-centered. This means you identify every electrical and mechanical device in a building, you IP-enable it, attach it to the network and are able to control and monitor it. Once that is accomplished, the next logical step is to start analyzing the data coming from it to change your processes and procedures. 
Lastly, you can start getting machines to talk to machines and automate the processes it takes to run and operate a building. That's a smart building!
NREI: Have we reached the phase of "how" rather than "if" yet when it comes to building new smart buildings and converting existing properties to smart buildings? How far are we from the "early adopter" phase of this technology?
Jim Young: I'd say 95 percent of the world is still focused on, "Why should we do this?" I believe we have absolutely jumped the chasm and it is no longer a function of if, but, rather, how. We are actually moving from early adopter to early majority and that's evidenced by the increase in case studies we have on our IBcon program this year. The amount of activity in the space in just the last six to nine months is probably six times greater than it's been over the last 10 years. We've got 30-plus sessions and 30-plus case studies demonstrating that these buildings work. 
NREI: What are some of the new things you're seeing in the smart building movement and industry?
Jim Young: We are seeing new things, but we've been seeing new things for a while–everything from fire extinguishers to parking gates and bathroom systems, all with sensors allowing them to be connected to a network. Once you put them on a network, you no longer require people to manually check on them. No more driving around checking vending machines. 
More important than new things is the fact that the technology is here. We are now past the evangelical stage and are seeing the implementation. The question now is, "Is this real?" and the answer is yes!  If not, you wouldn't have companies like Microsoft, MGM Resorts International, GSA Public Building Services and many of the major institutional players and private developers successfully deploying these new smart building technologies at such an amazing pace.
Unfortunately, it is still a relatively small percentage (5 percent to 10 percent) of the marketplace that gets it. Even though we'll have 25 billion sq. ft. of real estate represented at combined Realcomm and IBcon conferences, not every organization or person understands the technology and the enormous benefits of automating their buildings. Does the person in charge, the IT person, the facilities person, the operations head, the energy sustainability director—does the person who is in charge of each respective department or functionality have the vision? 
Then there are the organizational issues. Any one of these different departments could potentially address these issues, but not alone. They have to go back to their organizations and convince the people in all those other departments to get onboard. If I'm energy, for example, I've got to go back and find my sustainability person, my operations person, my IT person, and I've got to get everybody in a room and convince them that we need to work on this together because the network pulls everything together. So, now the organization has to change. The technology is here; it's your decision whether or not you're jumping in and how fast you can change your organization. We'll see enough new things—it's a function of whether you as an individual can make the transformation and whether your organization is innovative and adaptive enough to make the changes. 
NREI: What are some of the new aspects of smart building technology that you will cover this year?
Jim Young: One of the big things we're covering will be the core operating platform that handles all the information to manage a building. We'll look at the software—either sitting in the basement or on the cloud—that will be the center stone of the automation strategy for a building in a portfolio.  Another big topic is business intelligence for buildings, or building analytics. If you're pulling 500 million pieces of data from a building every day or, in another case, 17 billion pieces of data a week, you'd better have software that's capable of analyzing it. Then there's visualization, which means you take those hundreds of millions of datapoints and present them graphically to show your building living and breathing, with little red dots showing up when you have problems. Now you're managing facilities from a command and control center, which is another big topic. Suddenly, you're able to look at problems in ceilings that even the engineers on the ground wouldn't see. When you have 30 case studies, 30 sessions, and an exhibit floor with the leading solution providers, there's going to be a lot of new technologies to learn about. 
NREI: This year's IBcon conference is themed "REvolution." That sounds pretty exciting. How is smart building technology taking off in the various commercial real estate markets—industrial, office, retail, hospitality and multifamily?
Jim Young: Yes, it is very exciting. If you look at the big picture, you're taking a network, putting it on top of a building, identifying and connecting every electrical mechanical device, grabbing the data, running it down an enterprise grade network, pushing it into an analytics engine, parceling it off to utilities, parceling it off to security companies, parceling it off to third-party facility management companies, doing the analytics and visualization and, ultimately, getting machines to talk to machines and automating the business processes. That's a technology REvolution!
As far as adoption within the various market segments, it's all over the board. We'll be presenting case studies showing what's being done in office portfolios, on campuses, at corporate headquarters, in retail malls, within the entertainment/hospitality industry in casinos and hotels and in multifamily condominiums. I wouldn't say market sector is the key denominator in who's ahead; it all boils down to the six or eight individuals in a company who have a vision, willingness and capacity to change that company.
NREI: Who are some of the innovators you'll be featuring as speakers and what are some of the highlights of this year's program?
Jim Young: Over the last 11 years, we've found the early adopters from all over the world. These innovators legitimately represent the next generation of thinking on this topic. They will be sharing exciting case studies from Sydney, Hong Kong, Canada and the United States. In our opening general session we've got Microsoft, the biggest corporate contiguous campus in the world; MGM Resorts, one of the most sophisticated gaming companies in the world, with a dozen hotels in Las Vegas, as well as a portfolio in China; General Growth Properties, a major mall owner who is doing some really state-of-the-art things; and an office portfolio out of New York that is going to be introducing some incredibly sophisticated concepts during the session.
And that's just the general session!  We have more than 100 speakers in our education sessions. We are also introducing a new two-hour super-session called the "Best Practices Smart Buildings Showcase." It will include 30 examples from around the world of next-generation, open, integrated, interoperable, IP-centric buildings focusing on all three aspects of a smart building—energy efficiency, operating efficiency and occupant satisfaction. Attendees will have an opportunity to interact face-to-face with each of these leaders to gain insights and get their questions answered. No other conference has had this number of next generation concepts and ideas, as far as buildings go, presented in one room.
NREI: How much bigger and better will the 2013 conference be compared to last year's?
Jim Young: The big difference will be the number of successful projects there are to talk about now. Last year, we were nurturing six case studies/early adopters; this year there are five times that many…and counting! In 2013, attendees will see this activity and realize the trend isn't going away. While still in its early stages, the REvolution has taken off and if they aren't in the space, they are going to need to start planning to get there. 
NREI: Any final thoughts on the event that you'd like to pass along?
Jim Young: [In the smart building movement] we are now comparing each other's results and continuing to fine tune. If you have any touch point with a facility manager, property manager, head of sustainability, head of energy, head of operations, head of IT—and you have any inclination that you can improve the operational efficiencies through the use of technology, automation and innovation, then you cannot afford to miss IBcon.